Guillermo Amezcua '03 Wins Kellogg Biotech & Healthcare Case Competition
February 3, 2010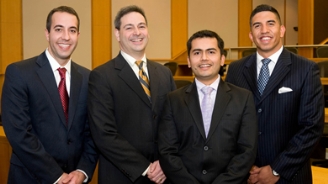 February 3, 2010, Greencastle, Ind. — Guillermo H. Amezcua, a 2003 graduate of DePauw University, is among a team of students at the Kellogg School of Management which has taken first place at the Kellogg Biotech & Healthcare Case Competition. "Part-Time students Guillermo Amezcua, David Chameli, Varun Goyal and Michael Senical on Jan. 23 bested 11 other teams from schools such as Harvard, the London Business School and Chicago Booth," notes an announcement. "The top prize included $5,000 and an opportunity to meet with the CEO and top executives from Genzyme, a Boston-based biotechnology company." (photo: Amezcua, far right, with his teammates)
It adds, "This year's competition, sponsored by Genzyme and Illinois-based Abbott Labs, challenged students to evaluate whether Genzyme should invest $50 million in Synvisc-One, a single-dose version of Synvisc, a knee pain treatment. They also had to decide whether Synvisc-One should go head-to-head in a trial with Synvisc."
Amezcua majored in economics at DePauw, where he was a Holton Scholar and Management Fellow and now serves on the Alumni Board. He says
his team "focused on the core issues in the case, then identified the root cause of each, assessed the merits and risks, and ultimately made a recommendation that was based on as much fact as possible supported by the appropriate level of analysis."
Read more by clicking here.
Learn more about Guillermo Amezcua in this previous story.
Back