What Makes a Good Politician?, Asks Lee Hamilton '52
February 4, 2010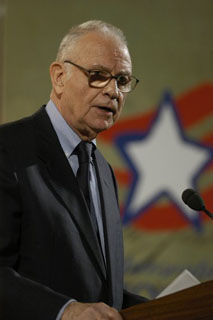 February 4, 2010, Greencastle, Ind. — "I'm always surprised that relatively little attention is focused on examining closely whether someone serving in or running for Congress has the personal attributes it takes to be an effective member of the institution," writes Lee H. Hamilton, the 1952 DePauw University graduate who served 34 years in the U.S. House of Representatives. "If someone's behavior is shady or unsavory, that will make the news. But the qualities and skills that set good politicians apart should draw more notice."
In a newspaper op-ed, Hamilton offers, "Chief among those qualities is honesty. The public may believe that politics is a dirty business, but effective members of Congress must be trustworthy. They understand that to work together over the course of years, they must level with their colleagues. The same is true in their dealings with constituents, who are on the lookout for hyperbole and misleading statements."
Other attributes cited by the veteran statesman include energy, focus, communication skills and ambition. "While most politicians -- good and indifferent -- are adept at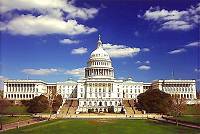 identifying and seizing on issues that will work to their own or their party's benefit, the better ones possess an additional skill: they know how to use the system to achieve results. They understand where in the federal bureaucracy to get help for a constituent, and they think creatively about how to use the congressional process and their colleagues' interests to advance a policy goal. Perhaps just as important, they also understand the limits of their power -- both what a legislator can realistically accomplish, and the fact that legislators might react to events but rarely can control them ... And perhaps most important, they understand that politics involves give and take, and the ability to find common ground. A good politician listens very carefully to those on the other side, not only to learn their arguments, but especially to learn how far he or she can move them and how far he or she has to be moved in order to reach consensus."
The Democrat concludes, "Finally, they never forget where they're from and fight hard not to succumb to Potomac Fever. They understand their districts and states, remain loyal to their constituents,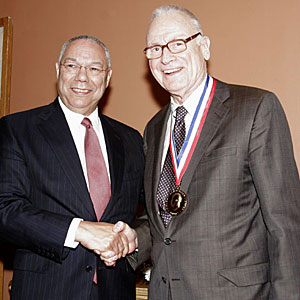 and have an abiding faith in the decency, intelligence and patriotism of the voters. Without that, it's almost impossible to be a true representative, able to express in the halls of the powerful the hopes, dreams, and interests of ordinary Americans. That's what they got sent to Washington to do, and the very best never forget." (at left: Hamilton receiving the Eisenhower Medal from Gen. Colin Powell in May 2007)
Access the complete essay at the Web site of Ohio's Hillsboro Times-Gazette.
Lee Hamilton has been appointed co-chair of the new Blue Ribbon Commission on America's Nuclear Future. Now president and director of the Woodrow Wilson International Center for Scholars, he previously co-chaired both the 9/11 Commission and Iraq Study Group.
Back