Reich Finishes Second in Mile at Indiana Relays; Sets School Record
January 29, 2010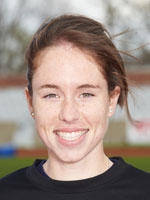 Jaunary 29, 2010, Bloomington, Ind. — DePauw senior Lauren Reich represented DePauw at the Indiana Relays at the Harry Gladstein Fieldhouse and finished second in the 1-mile run.
Her time of 4:57.24 on a banked track converts to a 4:58.14 which ranks third in the nation this year and is a provisionally qualifying time for the NCAA Division III Championships at DePauw, March 12-13.
The time also tops Reich's own school record of 4:58.33 set last year. Illinois State's Alisha Praught won the event in 4:57.23, just .01 seconds ahead of Reich.
As a team, DePauw opens the 2010 indoor season on Saturday as it hosts the Tiger Indoor Invitational at the Hollensteiner Track in the DePauw Indoor Tennis and Track Center.
Follow DePauw Athletics on Twitter | Become a Fan of DePauw Athletics on Facebook
Women 1 Mile Run=========================================================================   Gladstein: ! 4:31.37  1986        Andre Everett, Purdue University            
Div I Prov: * 4:47.00                                                        
Div I Auto: $ 4:37.00                                                       

     Name                   Year School                  Seed     Finals
 =========================================================================
  1 Praught, Aisha               Illinois Sta         5:03.18    4:57.23  
  2 Reich, Lauren                DePauw               4:58.33    4:57.24  
  3 Staton, Pam                  Unattached           4:56.00    4:57.80  
  4 Grebinski, Jayne             Marquette            4:56.00    4:58.60  
  5 Sullivan, Molly              Notre Dame           4:58.36    4:58.74  
  6 Johnson, Olivia              Marquette            4:56.00    4:59.63  
  7 Schlater, Abby               Missouri Sta         5:04.48    5:02.25  
  8 Husted, Jess                 Illinois Sta         4:58.20    5:04.22  
  9 Pelzel, Kristin              Marquette            5:06.00    5:07.36  
 10 Valgoi, Gina                 Loyola (Ill.         5:12.44    5:08.48  
 11 Dickman, Jill                Miami (Ohio)         5:17.00    5:09.80  
 12 Arenberg, Molly              Marquette            5:06.00    5:09.97  
 13 Engel, Caitlin               Indiana              5:06.20    5:12.23  
 14 Standifer, Caitlin           Belmont              5:12.29    5:12.26  
 15 Kelly, Courtney              Marquette            5:08.00    5:13.29  
 16 Wall, Lyndsey                Unattached           5:12.50    5:13.34  
 17 Turner, Whitney              Butler               5:13.97    5:13.96  
 18 Haberkorn, Lauren            Butler               5:15.00    5:14.57  
 19 Beard, Heather               Southern Ind         5:18.00    5:14.78  
 20 Thomas, Danielle             Toledo               5:07.70    5:16.01  
 21 Paez, Tory                   Miami (Ohio)         5:14.90    5:17.86  
 22 Bartelt, Holly               Southern Ind         5:19.00    5:18.38  
 23 Dixon, Christy               Screaming Ea         5:15.00    5:19.20  
 24 Agueci, Jen                  Wright State         5:55.00    5:21.95  
 25 Muldowney, Kimberly          Belmont              5:19.42    5:23.25  
 26 Whiteman, Sarah              Southern Ind         5:20.00    5:24.76  
 27 Haines, Emily                Southern Ind         5:27.00    5:26.06  
 28 Duble, Jessica               Belmont              5:27.12    5:28.73  
 29 Sephel, Kara                 Belmont              5:18.11    5:29.67  
 30 Case, Stephanie              Miami (Ohio)         5:18.00    5:31.21  
 31 Bishop, Courtney             Belmont              5:19.57    5:32.13  
 32 Owens, Kasey                 SE Missouri          5:21.51    5:35.66  
 33 Staples, Haley               Unattached           5:20.50    5:38.90  
 34 Dick, Ashley                 Butler               5:45.00    5:41.64  
 35 Gerbers, Cierrra             Vincennes            5:44.14    5:43.73  
 36 Payne, Bailey                Bryan                5:35.00    5:46.62  
 -- Crew, Cassi                  Vincennes            5:45.00        DNF

Back