DePauw Featured in Campus Technology Article on Meeting Students' Needs
February 5, 2010
February 5, 2010, Greencastle, Ind. — An article in the February 2010 issue of Campus Technology, which examines how colleges and universities are gauging and meeting the technology needs of their students, cites DePauw University.
"One might think that the best way to learn about student expectations is to ask students directly, through surveys or focus groups," writes Dian Schaffhauser. "But that's not how Carol Smith, CIO at DePauw University in Greencastle, Ind., gains her insight into student needs. She prefers the indirect approach; through her information sources, she is in a position to observe needs that students don't always overtly express. For example, one of Smith's information sources is, in fact, a survey, but it's not to poll students about what they want in their campus technology. Rather,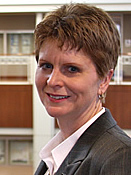 it's an annual survey done among the school's 2,300 students to evaluate an ongoing, mandatory laptop/tablet PC program."
"Its intention is to gather information about what students' experiences have been," Smith, a 1985 graduate of DePauw, tells the publication. "Whether they're using these machines in their classes; whether their instructors are making assignments to use them."
The text notes, "The information the survey gathers about student behavior helps Smith and her IT team predict future student expectations. For example, she says, "We're getting insights about traffic patterns: Where do you study-in the library, your room, at the coffee shop downtown?" That kind of information helps Smith decide where and how she needs to focus future technology resources. Smith's second source of student insight comes via DePauw's Information Technology Associates Program (ITAP). This four-year honors program provides internships for students to gain experience on campus doing IT-related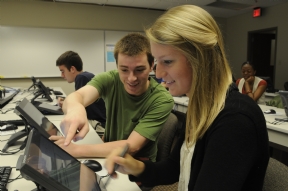 activities, such as creating labs or editing videos. 'We keep in touch with them,' Smith says, and like roving reporters, 'they tell us what's going on.'"
You can read the complete article -- "What Students Want" -- online at the magazine's Web site.
DePauw's innovative use of technology has been featured in promotional materials distributed by Intel and HP. Learn more in this previous story.
Back