Scott Rasmussen '86 Authors In Search of Self-Governance
February 7, 2010
February 7, 2010, Greencastle, Ind. — Scott W. Rasmussen, founder and president of Rasmussen Reports and 1986 graduate of DePauw University, has authored In Search of Self-Governance. In the book, Rasmussen argues that "Americans don't want to be governed from the left, the right, or the center. The American people want to govern themselves."
According to the author, "Self-governance is about far more than politics and government. It requires a lot of the American people, and it has nothing to do with the petty partisan games played by Republicans and Democrats. Unfortunately, even after more than 200 years of success, there is an urgent need to defend this most basic of American values."
"Pollster Scott Rasmussen has his finger on the pulse of America, conducting hundreds of spot-on surveys every year," says Dr. Larry J. Sabato, director of the University of Virginia's Center for Politics. "Now he takes what he has learned about us one step further, with thought-provoking advocacy about the way we the people should govern ourselves."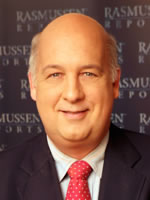 Learn more about the book at Amazon.com.
Rasmussen Reports is an independent media company specializing in the collection, publication and distribution of public opinion polling information. Last month, the Wall Street Journal noted the accuracy of Rasmussen's polls. Columnist Michael Barone has called Rasmussen "one of America's most innovative pollsters."
Learn more about Scott Rasmussen, who majored in history at DePauw and co-founded ESPN with his father, Bill Rasmussen '54, in this previous story.
Back