Indiana State Wins Tiger Indoor Invitational; DePauw Places Third
February 6, 2010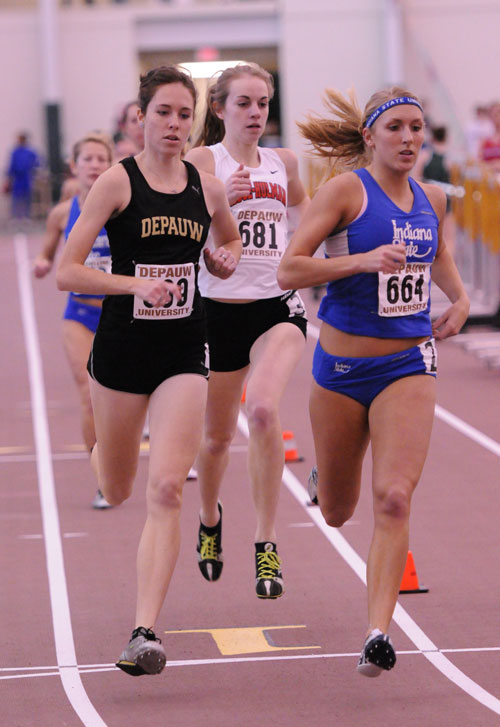 February 6, 2010, Greencastle, Ind. — Indiana State's women totaled 206 points and won the Tiger Indoor Invitational. Vincennes was second with 72 points and DePauw third with 68.
Lauren Reich (left) took a first in the 800-meter run in 2:16.27 with Lauren Becharas placing seventh in 2:30.80. Rachel Voorhorst finished second in the long jump at 4.88 meters (16-00.25), while Lee Harmon was fourth in the high jump (1.55 meters/5-1) and Chelsea Courtney was sixth (1.45 meters/4-9).
Harmon was second in the triple jump (10.23 meters/33-6.75) and Courtney finished fourth (9.53 meters/31-3.25)
Taryn Owens placed sixth in the 55-meter hurdles in 9.30 seconds, while Tamesha McGuire was sixth in the 55-meter dash in 7.64 seconds. McGuire was also fourth in the 200 meters in 27.69.
Erica Mills finished fifth in the pole vault at 2.60 meters (8-6.25) and Becharas was seventh at 2.30 meters (7-6.5).
The 4 x 200-meter relay won in 1:55.12.
The Tigers host the DePauw Invitational on Saturday, February 13.
Follow DePauw Athletics on Twitter | Become a Fan of DePauw Athletics on Facebook
Licensed to DePauw University                             HY-TEK's Meet Manager
                   2010 Tiger Indoor Invitational - 2/6/2010                   
                 Hollensteiner Track/DePauw U./Greencastle,Ind                 
                                    Results                                    
 
                    Women - Team Rankings - 16 Events Scored
===============================================================================
    1) Indiana State              206        2) Vincennes                  72   
    3) DePauw                      68        4) Wilmington (Ohio)          67   
    5) Rose-Hulman                 56        6) Southern Indiana           33   


Event 1  Women Distance Medley
================================================================================
       Track: T 11:41.66  3/15/2003   Wartburg, Wartburg                       
                          Holubar, Olson, Tiernan, Buttry                   
        Meet: M 12:36.11  2/5/2005    Bellarmine University, Bellarmine Unive  
                          K Hickey, R Dixon, C Duffala, M Crowe             
    School                                               Seed     Finals  Points
================================================================================
Finals
  1 Indiana State  'A'                               12:59.98   13:39.00   10   
 
Event 3  Women 4x200 Meter Relay
================================================================================
       Track: T 1:41.51  2/11/2006   Missouri Baptist University, Missouri Bapt
        Meet: M 1:44.04  2/5/2005    Missouri Baptist University, Mo.  Baptist 
                         N Anderson, S Duncan, R Baldwin, C Ray            
    School                                               Seed     Finals  Points
================================================================================
  1 DePauw  'A'                                       1:49.00    1:55.12   10   
 
Event 7  Women 55 Meter Hurdles
=========================================================================
       Track: T  7.99  3/15/2003   Aquilla Williams-Judge, Wheaton (Mass.)     
        Meet: M  8.00  2/7/2004    Daveetta Shepherd, Lindenwood U.            
    Name                    Year School                  Seed    Prelims 
=========================================================================
Preliminaries
  1 Tori Stone                FR Indiana Stat            8.70       8.58q 
  2 Sarah Snapp               SO Indiana Stat            8.46       8.62q 
  3 Kiwanna Stewart           SO Indiana Stat            8.65       9.02q 
  4 Gloria Boxell             FR Rose-Hulman             9.76       9.24q 
  5 Annie Smith               SR Indiana Stat            9.44       9.27q 
  6 Taryn Owens               FR DePauw                             9.30q 
 
Event 7  Women 55 Meter Hurdles
================================================================================
       Track: T  7.99  3/15/2003   Aquilla Williams-Judge, Wheaton (Mass.)     
        Meet: M  8.00  2/7/2004    Daveetta Shepherd, Lindenwood U.            
    Name                    Year School               Prelims     Finals  Points
================================================================================
Finals
  1 Tori Stone                FR Indiana Stat            8.58       8.58   10   
  2 Sarah Snapp               SO Indiana Stat            8.62       8.62    8   
  3 Kiwanna Stewart           SO Indiana Stat            9.02       9.02    6   
  4 Gloria Boxell             FR Rose-Hulman             9.24       9.24    5   
  5 Annie Smith               SR Indiana Stat            9.27       9.27    4   
  6 Taryn Owens               FR DePauw                  9.30       9.30    3   
 
Event 9  Women 55 Meter Dash
============================================================================
       Track: T  7.01  2/5/2005    Nicheshia Anderson, Mo.  Baptist            
        Meet: M  7.01  2/5/2005    Nicheshia Anderson, Mo.  Baptist            
    Name                    Year School                  Seed    Prelims  H#
============================================================================
Preliminaries
  1 Callen Martin             SR Wilmington (            7.05       7.11q  1 
  2 Ebony Wright              FR Vincennes               7.50       7.46q  2 
  3 Dyrena Darrett            FR Vincennes               7.49       7.59q  1 
  4 Macey Black               FR Indiana Stat            7.75       7.61q  1 
  5 Tamesha McGuire           FR DePauw                             7.67q  1 
  6 Shalesa Smith             FR Indiana Stat            7.66       7.70q  2 
  7 Brenda Jones              FR Wilmington (            7.89       7.86q  2 
  8 Rochanda Johnson          JR Indiana Stat            7.88       7.88q  1 
  9 Rachel Voorhorst          FR DePauw                             8.06   2 
 10 Abby Sowers               FR Rose-Hulman                        8.34   2 
 
Event 9  Women 55 Meter Dash
================================================================================
       Track: T  7.01  2/5/2005    Nicheshia Anderson, Mo.  Baptist            
        Meet: M  7.01  2/5/2005    Nicheshia Anderson, Mo.  Baptist            
    Name                    Year School               Prelims     Finals  Points
================================================================================
Finals
  1 Callen Martin             SR Wilmington (            7.11       7.11   10   
  2 Ebony Wright              FR Vincennes               7.46       7.47    8   
  3 Shalesa Smith             FR Indiana Stat            7.70       7.58    6   
  4 Dyrena Darrett            FR Vincennes               7.59       7.59    5   
  5 Macey Black               FR Indiana Stat            7.61       7.59    4   
  6 Tamesha McGuire           FR DePauw                  7.67       7.64    3   
  7 Brenda Jones              FR Wilmington (            7.86       7.84    2   
  8 Rochanda Johnson          JR Indiana Stat            7.88       7.85    1   
 
Event 11  Women 1 Mile Run
================================================================================
       Track: T 4:55.85  2/10/2007   Bethany McCoy, Olivet Nazarene            
        Meet: M 4:59.26  2/7/2004    Heather Cooksey, Southern Indiana         
    Name                    Year School                  Seed     Finals  Points
================================================================================
  1 Christy Dixon                Unattached           5:10.00    5:24.68   10   
  2 Sarah Whiteman            SR Southern Ind         5:18.00    5:30.58    8   
  3 Annie Cekada              FR Wilmington (         5:28.50    5:33.48    6   
  4 Kelsey Stief              JR Wilmington (         5:28.11    5:35.11    5   
  5 Kate Tarr                 FR Indiana Stat         5:39.65    5:42.73    4   
  6 Brittany Karges           SO Southern Ind         5:46.00    5:56.91    3   
  7 Carol Mass                FR Indiana Stat                    7:15.88    2   
 
Event 13  Women 400 Meter Dash
===================================================================================
       Track: T 55.47  3/15/2003   Amber James, Wheaton (Mass.)                
        Meet: M 58.49  2/3/2007    Cicely Wattley, Indianapolis                
    Name                    Year School                  Seed     Finals  H# Points
===================================================================================
  1 JaMisha Abney             FR Vincennes            1:00.68    1:00.03   2  10   
  2 Tori Stone                FR Indiana Stat         1:01.03    1:00.19   2   8   
  3 Patricia Merrion          FR Indiana Stat         1:02.51    1:03.45   2   6   
  4 Krystal Taylor            SR Wilmington (         1:04.81    1:04.90   1   5   
  5 Lauren Crick              SR Southern Ind         1:02.10    1:06.11   2   4   
  6 Kylie Hesler              SO Indiana Stat         1:08.92    1:09.63   1   3   
  7 Rebekah Hoffman           FR Southern Ind         1:04.90    1:10.06   1   2   
  8 Rachael Nodine            FR Vincennes                       1:13.82   1   1   
 
Event 15  Women 800 Meter Run
================================================================================
       Track: T 2:11.59  3/15/2003   Liz Woodworth, Wisconsin-Oshkosh          
        Meet: M 2:16.14  2/6/2009    Bethany Davies, Cedarville                
    Name                    Year School                  Seed     Finals  Points
================================================================================
  1 Lauren Reich              SR DePauw               2:15.00    2:16.27   10   
  2 Adriane Wunderlich        SR Indiana Stat         2:17.10    2:17.49    8   
  3 Creasy Clauser            FR Rose-Hulman          2:18.59    2:23.96    6   
  4 Christy Dixon                Unattached           2:20.00    2:26.65    5   
  5 Kristy Twitchell          SO Indiana Stat         2:24.66    2:27.49    4   
  6 Lacy Williams             SR Southern Ind         2:22.00    2:30.15    3   
  7 Lisa Becharas             SO DePauw               2:40.00    2:30.80    2   
  8 Jazmunn Ritchie           SO Vincennes            2:28.00    2:31.69    1   
  9 Amanda Lundahl            SR Rose-Hulman          2:36.06    2:34.06  
 10 Sarah Whiteman            SR Southern Ind         2:25.00    2:35.12  
 11 Kelsey Stief              JR Wilmington (         2:31.65    2:40.83  
 12 Annie Cekada              FR Wilmington (         2:32.00    2:44.89  
 13 Annie Smith               SR Indiana Stat                    2:50.96  
 14 Erica Arroyo              FR Indiana Stat                    3:06.59  
 
Event 17  Women 200 Meter Dash
===================================================================================
       Track: T 24.70  3/1/2009    Kelsey Conrad, Wisconsin-Milwaukee          
        Meet: M 25.05  2/7/2004    Genna Williams, Lindenwood U.               
    Name                    Year School                  Seed     Finals  H# Points
===================================================================================
  1 Callen Martin             SR Wilmington (           25.81      25.96   2  10   
  2 Dyrena Darrett            FR Vincennes              26.07      26.58   2   8   
  3 Macey Black               FR Indiana Stat           26.91      26.82   2   6   
  4 Tamesha McGuire           FR DePauw                 27.88      27.69   1   5   
  5 Shalesa Smith             FR Indiana Stat                      27.70   1   4   
  6 Kiwanna Stewart           SO Indiana Stat           27.48      27.89   2   3   
  7 Rochanda Johnson          JR Indiana Stat                      28.44   1   2   
  8 Gloria Boxell             FR Rose-Hulman            28.57      28.51   1   1   
  9 Ebony Wright              FR Vincennes              26.05      28.80   2 
 10 Abby Sowers               FR Rose-Hulman            29.06      29.23   1 
 11 Brenda Jones              FR Wilmington (           29.21      29.42   1 
 
Event 19  Women 3000 Meter Run
================================================================================
       Track: T  9:44.72  3/1/2009    Laura Rolf, Valparaiso                   
        Meet: M 10:13.20  2/6/2009    Nicole Santos, Cedarville                
    Name                    Year School                  Seed     Finals  Points
================================================================================
  1 Cierrra Gerbers           FR Vincennes           11:10.00   11:23.89   10   
  2 Brittany Karges           SO Southern Ind        11:15.00   11:27.10    8   
  3 Lillian Bunn              JR Wilmington (                   11:31.52    6   
  4 Karlee Michel             FR Wilmington (                   11:34.61    5   
  5 Katherine Quigg           JR Rose-Hulman         11:46.94   11:35.21    4   
  6 Corrie Campbell           SR Rose-Hulman                    12:12.51    3   
  7 Hannah Wolfe              JR Wilmington (        11:46.66   12:27.40    2   
  8 Katelyn Isbell            FR Indiana Stat        11:25.14   12:46.76    1   
 
Event 21  Women 4x400 Meter Relay
================================================================================
       Track: T 3:45.01  3/15/2003   Wheaton (Mass.), Wheaton (Mass.)          
                         Smith, Williams-Judge, Bromell, James             
        Meet: M 3:58.77  2/1/2008    Dayton, Dayton                            
                         L Aubry, K Tejkl, S Chew, A Cattran               
    School                                               Seed     Finals  Points
================================================================================
  1 Indiana State  'A'                                4:03.21    4:07.12   10   
  2 Vincennes  'A'                                    4:04.50    4:07.28    8   
  3 Wilmington (Ohio)  'A'                            4:32.00    4:51.32    6   
 
Event 23  Women Weight Throw
==========================================================================================
       Track: T 18.69m  2/11/2006   Emily Turland, Louisville                  
        Meet: M 18.68m  2/6/2009    Amy Schmitz, Indianapolis                  
    Name                    Year School                  Seed     Finals            Points
==========================================================================================
  1 Kelsey Hanley             JR Indiana Stat          19.99m     19.21mT  63-00.25  10   
  2 Felisha Johnson           FR Indiana Stat          18.60m     19.12mT  62-08.75   8   
  3 Toywonia Jones               Unattached            17.10m     16.13m   52-11.00   6   
  4 Kasey Kahle               FR Indiana Stat          15.19m     15.58m   51-01.50   5   
  5 Bellosie Frazier          SO Vincennes             15.30m     14.49m   47-06.50   4   
  6 Elizabeth Chandler        SO Vincennes             13.50m     13.22m   43-04.50   3   
  7 Tara Perigo               SO Indiana Stat          13.04m     12.89m   42-03.50   2   
  8 Aubrey Sears              SO Vincennes             11.61m     12.58m   41-03.25   1   
  9 Katie Moorhead            SR Rose-Hulman           12.23m     12.48m   40-11.50 
 10 Aleksandra Kampa          SO Rose-Hulman           11.89m     12.21m   40-00.75 
 11 Allyssa McMullen          JR Wilmington (          11.70m     12.14m   39-10.00 
 12 Samantha Goodman          FR Vincennes             11.55m     12.01m   39-05.00 
 13 Britney Meadows           JR Wilmington (          11.34m     11.54m   37-10.50 
 14 Meredith McGrady          JR DePauw                10.20m      9.84m   32-03.50 
 
Event 25  Women Long Jump
==========================================================================================
       Track: T 5.87m  2/11/2006   Sherlonda Johnson, Wisconsin-Milwaukee      
        Meet: M 5.78m  2/6/2009    Jessica Merriweather, Rend Lake             
    Name                    Year School                  Seed     Finals            Points
==========================================================================================
  1 Annie Smith               SR Indiana Stat                      5.01m   16-05.25  10   
  2 Rachel Voorhorst          FR DePauw                            4.88m   16-00.25   8   
  3 Satomi Kaminaga           SR Rose-Hulman            4.62m      4.65m   15-03.25   6   
  4 Rebekah Hoffman           FR Southern Ind                      3.97m   13-00.25   5   
 
Event 27  Women High Jump
==========================================================================================
       Track: T 1.76m  3/14/2003   Kim Deprez, Geneseo State                   
        Meet: M 1.73m  2/8/2003    Abby Boberg, Southern Indiana               
    Name                    Year School                  Seed     Finals            Points
==========================================================================================
  1 Elizabeth Evans           FR Rose-Hulman            1.73m      1.71m    5-07.25  10   
  2 Nikole Snearley           SO Indiana Stat           1.55m      1.55m    5-01.00   7   
  2 Devon Hardman             FR Rose-Hulman            1.58m      1.55m    5-01.00   7   
  4 Lee Harmon                FR DePauw                            1.55m    5-01.00   5   
  5 Lauren Fondriest          SR Wilmington (           1.52m      1.50m    4-11.00   4   
  6 Chelsea Courtney          FR DePauw                            1.45m    4-09.00   3   
 
Event 29  Women Triple Jump
==========================================================================================
       Track: T 12.37m  3/15/2003   LaNeatra Johnson, Christopher Newport      
        Meet: M 11.57m  2/7/2004    Doreen Nagawa, Wilmington                  
    Name                    Year School                  Seed     Finals            Points
==========================================================================================
  1 Sarah Snapp               SO Indiana Stat          10.77m     10.57m   34-08.25  10   
  2 Lee Harmon                FR DePauw                           10.23m   33-06.75   8   
  3 Satomi Kaminaga           SR Rose-Hulman           10.17m     10.18m   33-04.75   6   
  4 Chelsea Courtney          FR DePauw                            9.53m   31-03.25   5   
 
Event 31  Women Pole Vault
==========================================================================================
       Track: T 4.25m  2/6/2009    Kylie Hutson, Indiana State                 
        Meet: M  9-00  2/9/2002    Kelly Zelienga, Indianapolis                
    Name                    Year School                  Seed     Finals            Points
==========================================================================================
  1 Kylie Hutson              SR Indiana Stat           4.25m      4.30mT  14-01.25  10   
  2 Richelle Kimble           FR Indiana Stat           3.37m      3.50m   11-05.75   8   
  3 Amanda Paden              JR Indiana Stat           3.37m      3.35m   10-11.75   6   
  4 Tanya Colonna             FR Rose-Hulman            2.97m      3.05m   10-00.00   5   
  5 Erica Mills                  DePauw                            2.60m    8-06.25   4   
  6 Liz Delehanty             FR Wilmington (           2.74m      2.30m    7-06.50   3   
  7 Lisa Becharas             SO DePauw                            2.30m    7-06.50   2   
 -- Alicia Fritschi           JR Indiana Stat           3.67m         NH            
 
Event 33  Women Shot Put
==========================================================================================
       Track: T 15.51m  3/15/2003   Healy Thompson, Williams                   
        Meet: M 14.28m  2/4/2006    Lindsey DeFevers, SIU Edwardsville         
    Name                    Year School                  Seed     Finals            Points
==========================================================================================
  1 Felisha Johnson           FR Indiana Stat          15.10m     14.25m   46-09.00  10   
  2 Rachel Deloney            FR Vincennes             13.40m     13.22m   43-04.50   8   
  3 Tara Perigo               SO Indiana Stat          13.34m     12.95m   42-06.00   6   
  4 Bellosie Frazier          SO Vincennes             13.65m     12.49m   40-11.75   5   
  5 Kasey Kahle               FR Indiana Stat          11.95m     11.68m   38-04.00   4   
  6 Britney Meadows           JR Wilmington (          11.35m     11.31m   37-01.25   3   
  7 Katie Moorhead            SR Rose-Hulman           10.48m     10.22m   33-06.50   2   
  8 Aleksandra Kampa          SO Rose-Hulman            9.81m     10.18m   33-04.75   1   
  9 Aubrey Sears              SO Vincennes             10.40m     10.11m   33-02.00 
 10 Samantha Goodman          FR Vincennes             10.43m      9.58m   31-05.25 
 11 Allyssa McMullen          JR Wilmington (           8.52m      8.52m   27-11.50 
 12 Rebekah Hoffman           FR Southern Ind           9.20m      8.43m   27-08.00 
 
 

Back