Betsy Enloe '83 is VP of Technology at Specialty Risk Services
February 10, 2010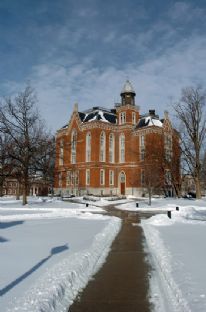 February 10, 2010, Greencastle, Ind. — Betsy Enloe, a 1983 graduate of DePauw University, has been appointed vice president of technology at Specialty Risk Services. The company is a leader in national property-casualty third party administration for workers' compensation and liability claims. Connecticut's Hartford Courant notes, "Enloe, a graduate of DePauw University and Rensselaer Polytechnic Institute, was previously chief operating officer at Trumbull Services."
"SRS is known for delivering cutting-edge technology solutions to our clients," says Joe Boures, president of SRS. "With Betsy at the helm, we expect to further enhance the efficiency and effectiveness of our clients' risk management programs. I am confident that Betsy's leadership will provide our clients with the tools they need to better analyze and evaluate information with ultimate flexibility."
Enloe has more than 20 years of experience in a variety of executive business and technology roles. Prior to her role at Trumbull Services, she served as assistant vice president of The Hartford's Property & Casualty Strategic Business
Development. Enloe has also held executive roles in finance technology and also functioned as director of controller operations.
Access the item at the newspaper's Web site.
Back