Focus the Nation
February 8, 2010
The third annual Focus the Nation (FTN), which will take place at DePauw Feb. 10-11, 2010, is part of FTN's National Teach-In that is intended to increase campus awareness of climate change and sustainability. This year, DePauw's theme is Green Jobs – Green Economy.

The National Teach-In, established in 2008, provides a way to create a lasting dialogue about sustainability and climate change on college campuses.

Its impact is showing clear signs at DePauw. On Sept. 15, 2008, following a campaign by a group of Focus the Nation participants, DePauw University President Brian W. Casey signed the American College and University Presidents Climate Commitment, making sustainability a formally supported institutional value.

"Focus the Nation has stimulated discussion and action within DePauw's community as well as the greater Greencastle community," says fifth-year sustainability intern Melissa "Missy!" Orr. "From DePauw's first FTN in 2008, Greencastle Mayor Sue Murray and other town officials have been involved – participating in sessions, speaking on panels and attending the evening expo highlighting businesses and organizations' environmental practices.

"This yearly event – and sustainability in general – has become a strong link to the community. It has become an opportunity to share information, practices and enthusiasm on environmental issues," Orr says. "Moreover, Greencastle's sustainability initiatives have been recognized by the Indiana Association of Cities and Towns two years in a row through the Green Communities Award."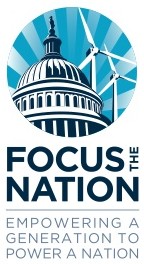 During the fall semester, Orr worked to coordinate this year's event along with Carol S. Steele, associate dean of academic affairs and sustainability coordinator, and three sustainability interns: Ashley L. Slupski '11, Chloe A. Lawson '12 and Alex S. Lopatka '12.

Orr spent Winter Term firming up the logistics of the event. "I'm excited about Focus the Nation. We're doing things a little more focused this year," Orr says. "There is only one scheduled session during each time-block as opposed to several, and we have a specific theme.

"We chose Green Jobs – Green Economy because it's a hot topic," says Orr. "Indiana businesses are receiving stimulus money to create jobs and a cleaner environment, and Indiana is in the center of what's going on in the United States," Orr says. "We need to be more aware of how we can lead the way.

"I'm excited about all of the sessions. They can interest anyone from any background or discipline."

Focus the Nation begins on Wednesday, Feb. 10, at 7 p.m. in the Eugene S. Pulliam Center for Contemporary Media, Watson Forum. The session, "Changing Industry in Indiana," will feature Laurie Counsel, energy and environmental relations director of Cummins, Inc. She will share information about the role that Cummins will play in developing future technologies and the jobs that will be created in Indiana.

United States Energy Secretary Steven Chu recently announced that Cummins Inc. will receive $54 million from the United States Department of Energy to make more efficient engines.

Cummins' home office is located in Columbus, Ind., and the company is the world's largest producer of commercial diesel engines above 50 horsepower. Represented in 132 countries, Cummins provides products and services for engines, power generation and filtrations. Chairman of the Board and Chief Executive Theodore "Tim" M. Solso is a 1969 DePauw graduate.

On Thursday, Feb. 11, three DePauw professors will present "Envisioning a Green Economy." Panelists include: Kerry E. Pannell, dean of faculty and associate professor of economics and management; Raymonda "Ray" L. Burgman, associate professor of economics and management and special adviser to DePauw President Casey for strategic initiatives; and Michele T. Villinski, associate professor of economics and management.

"'Envisioning a Green Economy' means that we are trying to understand how to arrive at an economic system that is ecologically sustainable for the foreseeable future," Pannell says. "Rather than assuming that technological progress will save us when the time comes, as economists often do, I like to start out by knowing what technological advances we need and aim for carrying out policy that will help us get there.

"It's a way of looking at the health of the entire globe from a very long-term perspective – this kind of thinking will help us understand both what is attainable and necessary in order to move to a sustainable growth path.

"Our session will discuss green taxes, green jobs and investment priorities that move us in the direction of environmentally and economically sound policies," Pannell says.


Also on Feb. 11, DePauw Environmental Policy Project (DEPP) members will present "Pizza and Policy." The students recently returned from the Copenhagen Climate Conference.

"This semester, DEPP students are following two bills at the Indiana General Assembly," Keelin A. Kelly '10 says. "One would require government buildings and schools to meet energy-efficient architectural standards. The other would help people in Indiana generate their own renewable energy.

"On Thursday, we will discuss both bills and the impacts they would have on green jobs in the state," Keelin says. "We will talk to people about these policies to help them understand the link between green jobs and government policy."

The session "One Community at a Time," is Feb. 11 at 4 p.m. in the Richard E. Peeler Art Center auditorium. The town manager of Dyer, Ind., Greencastle Mayor Sue Murray and two representatives from the city of Carmel will speak about community sustainability initiatives. The city of Dyer has also received the Indiana Association of Cities and Town Green Communities Award.

Thursday evening's session is a Sustainability Expo in the Memorial Student Union Building lobby and Fishbowl. Indiana businesses and organizations will showcase their environmental practices and efforts.

All sessions are free and open to the public. Click here for a complete schedule.
Click here to learn more about sustainability at DePauw.
Back