Keep Connected to DePauw with New iPhone Application
February 11, 2010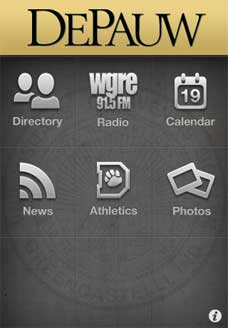 February 11, 2010, Greencastle, Ind. — There's a new way to stay connected to DePauw University -- wherever you are in the world -- and get quick access to the University calendar, the latest news from campus, scores and summaries of sporting events, photo galleries, and more. Jason Shore, creative director of Web services at DePauw, and Alex Billingsley, a junior at the University, collaborated to build an iPhone application from scratch.
It is available, free of charge, through iTunes or by going to an iPhone's Applications page and searching "DePauw" or "DPU."
"We are one of a select few colleges or universities that have created an iPhone app," says Shore. "Of those, only a few colleges have created the applications in-house. And of those who did create the application themselves, they typically had teams of 5-to-15 people working on the project. We're proud of the fact that DePauw's application was created entirely in-house with two people and a development time of one month."
Shore and Billingsley spent the month of January creating the application, which went public this week.

Among the features of the DePauw iPhone application:
Directory: Allows users to look up DePauw students, faculty and staff and connect quickly by phone or e-mail.
Calendar: Provides a look at all events listed on the campus calendar. You can browse by event types, including: Academics, Arts, Athletics, Speakers, and more. Includes time and location, detailed description, sponsoring organization and contact info.
News: View the latest news from DePauw, which is updated at least once a day. Browse by categories, including: Alumni, Events, Faculty, Music and more.
Athletics: Whether its the latest scores or features on Tiger student-athletes, you'll find it here. Browse all categories or for a specific team.
Photos: This feature allows users to browse albums from the DePauw photo database. You'll find many thousands of archived photos and can check for regular updates from around campus.
Radio: Streaming radio from WGRE/91.5 FM, Your Sound Alternative. Tune in to the station recognized annually as one of America's top college radio stations.
"This is another great example of how DePauw gets students connected early on with projects that have real-world relevance," says Christopher Wells, senior adviser to President Brian W. Casey and interim vice president for admission and financial aid. "We're extremely pleased with this app, and are excited to release it to the world."
Back