John Tedstrom '84 Enlists Top Corporations to Improve Global Health
February 11, 2010
February 11, 2010, Greencastle, Ind. — "Could Coca-Cola heal the world? Or Standard Chartered Bank or Chevron oil, for that matter?," asks Sarah Boseley of the UK's Guardian. "These giant corporations have money and skills. They do business in difficult, hard-to-reach places. They make things happen. So how much could be achieved if they put their efforts into global health? John Tedstrom, president and CEO of the Global Business Coalition on HIV/AIDS, Tuberculosis and Malaria, spends his time urging and helping them to do just that. Tedstrom, a former adviser to Bill Clinton, is so enthusiastic about the work that he turned down a job with the Obama administration, even though he spent 15 months on the stump getting Obama elected."
More than 200 companies have partnered with the Global Business Coalition and Tedstrom, a 1984 graduate of DePauw University. Boseley writes that "in western Kenya, the GBC has a project going which is intended to reach two million people mostly in rural settings with home-based testing and counseling. Local people have been trained to go door-to-door offering HIV and TB testing but also malaria treatment and de-worming. The hand of big business is clear from the sheer efficiency of the programme -- it started last April and they are already half-way to the target --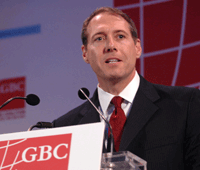 and the use of hand-held GPS devices (unaffordable for African governments) which mean they can collect really good data on who is being tested and treated linked to where they live. Tedstrom says they want to go back and offer tests and treatment for chronic diseases, such as diabetes and hypertension."
Read more at the newspaper's Web site.
John E. Tedstrom was named president and CEO of GBC on January 27, 2009.
Back