Poet & Prof. Joe Heithaus Featured on PBS Affiliate's Across Indiana
February 10, 2010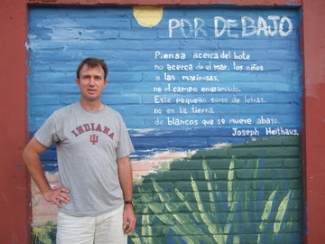 February 10, 2010, Greencastle, Ind. — Joseph W. "Joe" Heithaus, University Professor and associate professor of English at DePauw University, is featured in a segment of this week's Across Indiana, which is produced by Indianapolis PBS affiliate WFYI-TV and airs statewide. Heithaus was among a group of Indiana poets who traveled to El Salvador last October. A crew from the station went along and documented the group's interactions with Salvadoran school children and local poets. The station also came to Greencastle last month to interview Professor Heithaus and film some scenes of the DePauw campus. (at left: Joe Heithaus in El Salvador with a mural he designed)
The program can be seen Saturday at 6:30 p.m. on WFYI and at 10:30 that morning on Bloomington's WTIU. This week's episode includes the first segment of a three part series about the Hoosier poets in El Salvador that will air over the next few weeks.
"The idea was to work a cultural exchange, to share our poetry with poets in El Salvador and to go to the schools and do workshops that used sports and soccer to give children a way into poetry," Professor Heithaus says. "I was extremely moved by the experience and felt a profound obligation to bring the poetry of the four poets we met back to the states. As I don't know Spanish, I got the help of the Winter Term in Service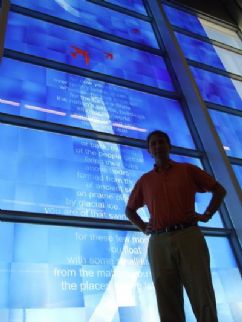 group which spent January in El Salvador. Many of the students did initial translations of the Salvadoran poet's poems -- four chapbooks -- then I went back down to El Salvador last month and spent four days working with the poets and other bilingual speakers to make the translations as accurate as possible. Then I connected the poets with the students, and the poets led workshops for children and community members in Las Marias, the community where the DePauw contingent was working."
Learn more about Across Indiana at WFYI's Web site.
Joe Heithaus is the author of a series of poems, Poison Sonnets, which won the 2007 Discovery/The Nation Prize. His poems have appeared in Poetry, the North American Review and the Southern Review. He is one of five "Airpoets," whose poems have been integrated into stained-glass window murals in the new Indianapolis International Airport (above right: Heithaus standing in front of one of the murals). The works are also featured in a collection, Rivers, Rails and Runways.
Back