Prof. Scotty Stepp to be Featured Soloist at ISU Concert
February 15, 2010
February 15, 2010, Greencastle, Ind. — Scotty Stepp, who teaches saxophone in the DePauw University School of Music, will be a featured soloist at Indiana State University's 19th annual Wind/Percussion Scholarship Concert. The program will take place Sunday, February 28, at 4 p.m. in Tilson Auditorium.
Stepp, an Indiana State alumnus, is part-time assistant assistant professor of music at DePauw. "During 2001-2003 he was granted a Fulbright Fellowship and a Harriet Hale Wooley scholarship to study in Paris, France under the direction of acclaimed saxophonist Jean-Yves Fourmeau," notes an announcement. "He is pursuing his Doctorate of Musical Arts at the University of Illinois. Steppe completed his Master of Arts in saxophone performance at Bowling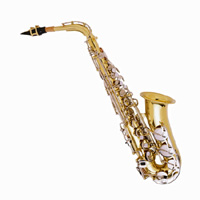 Green State University under the tutelage of John Sampen. He studied with Paul Bro while a student at Indiana State."
It adds, "He has performed throughout the United States, Europe and China. Most notable are performances at the United States Embassy in Paris, France, selected performer at the German-American Fulbright Program's 50th anniversary conference in Berlin, Germany and performances in Greece, Cyprus, and Italy. He has performed with the Chicago Civic, Lafayette, Toledo, Canton, Columbus, Carmel, and Terre Haute symphony orchestras as well as the State Orchestra of Thesaloniki, Greece."
Read more by clicking here, and visit the DePauw School of Music online.
Back