DePauw Welcomes Admitted Students This Weekend in Year of Record Applications
February 12, 2010
February 12, 2010, Greencastle, Ind. — In a year of record-setting applications for admission, DePauw University is welcoming a large group of prospective students and their families to campus this weekend for the Winter 2010 Admitted Student Open House. About 138 students are expected, accompanied by more than 200 family members. The guests will be coming from 15 states, including Arizona, California, Connecticut, Georgia, North Carolina, Texas and Wisconsin, with one prospective coming to Greencastle from Ecuador.
To date, DePauw has received an all-time record 5,148 applications for admission in the fall, a 14% increase over the 4,503 from a year ago at this time. Applications from international students are up 12% (437 versus 334) and the number of students of color seeking admission has increased 20% (768 vs. 625).
"We're very pleased with our applicant pool this year," says Christopher Wells, interim vice president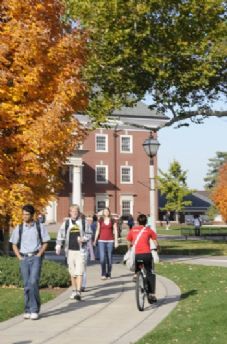 for admission and financial aid, "and we're excited to be welcoming to campus some of the students we've been able to offer spots in our incoming class. The large number of prospective students coming out in the middle of winter is further evidence of the very strong interest we've seen in DePauw during this admission season."
Wells adds, "The Winter and Spring Open House days provide a great opportunity for admitted students and their families to get a taste of what academic and extracurricular student life is like at DePauw. Many of these students who visit us tomorrow will become part of our incoming class this fall, and the Open House is designed to give them a good sense of what that will feel like. Our staff is hard at work to make sure it's a good day."
The 2009 National Survey of Student Engagement, released November 9, finds that the student experience at DePauw University provides far more academic engagement -- both in and out of the classroom -- than what is provided to undergraduates at peer institutions and the national average at all colleges and universities.
DePauw is rated among the nation's top 50 liberal arts colleges "that combine outstanding economic value with exceptional education," according to the December 2009 issue of Kiplinger's Personal Finance.
For the fourth consecutive year, DePauw University is listed among the "Top Producers of Fulbright Awards for U.S. Students" in a chart published in October in the Chronicle of Higher Education. It's also again one of the top colleges in the nation for the percentage of its students who study abroad, according to the 2009 Open Doors report.
An all-time record high 185 current DePauw students come from 41 countries outside the United States, representing 7.8% of the current student body.
Prospective students are invited to visit DePauw's Office of Admission online.
Back