Glenn Davis '79 Joins Gallop, Johnson & Neuman as Partner
February 13, 2010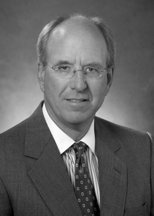 February 13, 2010, Greencastle, Ind. — Glenn E. Davis, a 1979 graduate of DePauw University, has joined the law firm of Gallop, Johnson & Neuman, L.C. as a partner. Davis' practice focuses on antitrust issues, securities and corporate litigation, corporate compliance and white-collar criminal defense.
Since 2003, Davis has been listed among The Best Lawyers in America for antitrust law, commercial litigation and franchise law and has been recognized as a Missouri "SuperLawyer" annually since 2005. He has successfully handled sophisticated antitrust litigation, class action and corporate business matters for clients in agribusiness, construction equipment, franchising, healthcare, manufacturing, pharmaceuticals, product distribution, securities, financial services and other industries.
"Glenn Davis has resolved complex legal issues for many Fortune 100 companies and he is highly respected in the legal profession in St. Louis and nationally," says Thomas J. Campbell, managing partner at Gallop, Johnson & Neuman. "Glenn's expertise and successful experience with complex antitrust counseling and litigation issues enhance our firm's strengths in business services; commercial transactions; distributor and dealer planning and management; and securities and business litigation for clients."
Davis notes, "Gallop, Johnson & Neuman is a top-ranked law firm that provides flexible legal service options, including 'win-win' alternative billing arrangements that client companies appreciate in today's challenging business and legal environments."
He is admitted to practice before Missouri and Illinois state courts; the U.S. District Courts for the Eastern and Western Districts of Missouri; the Southern and Central Districts of Illinois; the District of Columbia; and the U.S. District Courts of Appeal for the Seventh, Eighth and D.C. Circuits; and the Supreme Court of the United States.
An announcement notes that Davis serves several charitable and civic organizations, including membership on DePauw's Board of Visitors.
Read more by clicking here.
Back