19th-ranked DePauw Women Win 15th Straight
February 12, 2010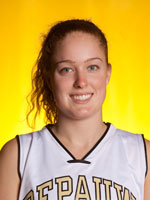 February 12, 2010, Sewanee, Tenn. — DePauw scored the game's first 10 points and never trailed on the way to an 82-37 Southern Collegiate Athletic Conference win at Sewanee.
DePauw improved to 19-3 overall and 12-1 in the SCAC with its 15th straight win, while Sewanee dropped to 6-17 overall and 2-12 in conference play.
The Tigers led by as many as 23 in the first half and held a 39-19 lead at the break. DePauw then opened the second half with a 31-9 run which pushed the margin to 40.
Katie Aldrich (pictured) led the Tigers with 13, while Emily Marshall added 12 and Lauren Goff 11. Kate Walker led DePauw with seven rebounds as the Tigers held a 46-18 edge on the boards. DePauw entered the game as the nation's leader with a rebound margin of +16.8. Walker and Katie Mathews each dished out four assists in the win.
Kelly Morrison was Sewanee's lone double figure scorer with 10 points, while Lauren Gulley grabbed four rebounds and Alex Ginsburg handed out four assists.
DePauw shot 54.7 percent from the floor including 61.3 percent in the second half to Sewanee's 29.2 percent for the game. The Tigers also held a 22-0 advantage in second chance points and a 33-9 margin in points off of turnovers.
The Tigers travel to Oglethorpe on Sunday for a Noon contest.
Follow DePauw Athletics on Twitter | Become a Fan of DePauw Athletics on Facebook
Back