John Neighbours '71 Helps Plan Indy's Mass Transit Future
February 14, 2010
February 14, 2010, Greencastle, Ind. — "After months of investment and study, the group argues that without a system of toll-ways, passenger rail and expanded bus service, economic development will suffer in Indianapolis," writes Dennis Ryerson, editor of the Indianapolis Star, in a column on the Central Indiana Transit Task Force, which is co-chaired by John T. Neighbours. A partner in the law firm of Baker & Daniels and a 1971 graduate of DePauw University, Neighbours and other task force members are calling for a new mass transit system for Indiana's capital city. Without it, "The region will spend too much money building freeways that feed pollution and increase our reliance on inefficient and costly automobile travel," Ryerson writes.
The plan calls for a more than $10 billion system which would include rail systems, an expansion of the region's highway system, expanded bus service and tolled express lanes. Public meetings will be held over the next 10 months to discuss the initiative.
The column notes that Neighbours was recently named chairman-elect of the Greater Indianapolis Chamber of Commerce, "whose members in many cases would strongly oppose a sales-tax increase, (is among the leaders) signing on to a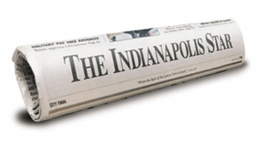 plan that would pay for transit expansion in part by raising that tax ... Indiana already levies one of the higher sales taxes in the country, and there are those 10 other matters I mention earlier in this column. But when the likes of Al Hubbard and Bob Palmer and John Neighbours say it's time to join the transit parade, maybe Indianapolis finally is poised to join Charlotte, St. Louis, Minneapolis/St. Paul, Denver, Salt Lake City, San Jose, Portland, Seattle and the majority of other large American cities that already provide alternatives to the auto."
Access the complete text, "It's time to join the mass transit parade," at IndyStar.com.
A member of DePauw's Board of Visitors, John Neighbours was a recipient of the 2009 Charles L. Whistler Award, a prestigious honor given by the Indianapolis mayor's office in collaboration with Greater Indianapolis Progress Committee. Read more in this recent story.
Back