Former VP Dan Quayle '69 Sees "Similarities" Between America's Mood Today and in 1980
February 15, 2010
February 15, 2010, Greencastle, Ind. — "There are some similarities," between the mood of the electorate today and what led to the "Reagan revolution" of 1980, Dan Quayle tells National Review. America's 44th Vice President and a 1969 graduate of DePauw University, Quayle notes, "The grassroots are very anxious. There is a lot of talk about Reagan values and the Reagan view of the world: smaller government, less regulation, less taxes, and a strong national defense. That's the direction this country is heading."
He adds, "Now, Republicans won the Senate in 1980, but we did not get the House, so though things look good now, we're still a long way from November. This will be a very good year for the GOP, it's just not clear how good." (at right: Quayle during an October 26, 1990 visit to DePauw)
Quayle comments came today shortly after U.S. Senator Evan Bayh (D-Indiana) announced that he has decided not to seek re-election, saying of Washington, "There is much too much partisanship and not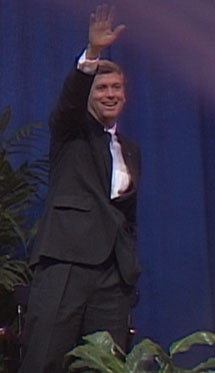 enough progress, too much narrow ideology and not enough practical problem solving." Bayh is in his second term in the Senate, and is the former governor and secretary of state of Indiana.
According to Quayle, "The timing of it took me by surprise, but not his reasons. He's had a long, good run from his perspective and wants to move on. He tried to run for president, was passed over by Obama as a vice-presidential candidate, and he's not in the Democratic Senate leadership -- he's leaving on his own terms."
Read more here.
Dan Quayle, who also was elected to two terms in both the U.S. House of Representatives and Senate, is currently chair of the international division of Cerberus Capital Management and president of Quayle and Associates. A member of DePauw's Athletic Hall of Fame, Quayle captained the Tiger golf team and was among the former players of Ted Katula who honored the retired coach at the November 12, 2005 announcement of a new endowed chair, the Theodore M. Katula Director of Athletics.
Evan Bayh delivered DePauw's commencement address in May 2006. A summary of his remarks, along with video, audio and photos, can be found in this story.
Back