Politics Daily Notes DePauw's Recent Howard Dean-Karl Rove Debate
February 16, 2010
February 16, 2010, Greencastle, Ind. — Howard Dean and Karl Rove "brought their show to a sold-out auditorium on the University of Colorado campus Monday," reports Politics Daily. "They may not reach the vitriol of Biden versus Cheney, but the 1,700 folks in the crowd responded with cheering, jeering and a few pointed questions ... DePauw University, Penn State and Portland also have hosted debates by the pair."
The story includes a link to this summary of the September 11, 2009 Rove-Dean debate at DePauw, which was presented by the Timothy and Sharon Ubben Lecture Series. About 2,000 attended the DePauw event.
Access the report on last night's Colorado debate by clicking here.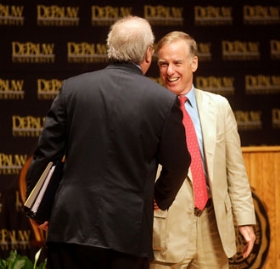 Established in 1986 through the generous support of 1958 DePauw graduates Timothy H. and Sharon Williams Ubben, the Ubben Lecture Series was designed to "bring the world to Greencastle" and presents events which are available for students, faculty, staff, alumni and the local community to enjoy. Previous guests have included Benazir Bhutto, Mikhail Gorbachev, Tony Blair, Spike Lee, Elie Wiesel, Margaret Thatcher and, most recently, SuperFreakonomics co-author Steven D. Levitt.
To view a complete roster of Ubben Lecturers -- which includes links to video clips and news stories -- click here. Video montages of many events are available on YouTube.
Back