"Bona Fide Hoosier Hero" Col. Weir Cook '16 is Honored
February 20, 2010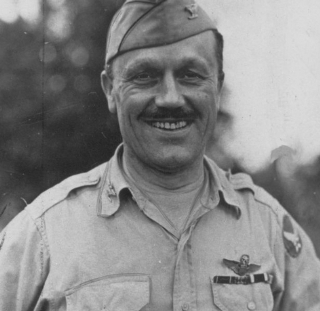 February 20, 2010, Greencastle, Ind. — "Our primary objective was to provide Hoosier recognition for a bona fide Hoosier hero, and we did this," Joe Ryan, president of the Military Officers Association of America, Indiana Council of Chapters, tells the Indianapolis Star. Ryan, a retired Army colonel, helped lead the successful campaign to have new Indianapolis airport terminal named the Col. H. Weir Cook Terminal Building and the new airport entry road Col. H. Weir Cook Memorial Drive. Weir Cook (pictured at left), a member of DePauw University's Class of 1916, was a World War I and II flying ace.
The Star's Zach Dunkin notes, "A permanent Cook exhibit also will be established at the terminal ... Cook, born in Hancock County in 1892, flew in both world wars and was killed in a plane crash in 1943. The next year, Indianapolis named its airport for him. The name was changed to Indianapolis International Airport in 1976." (at right: a vintage postcard of the old Indianapolis airport)
Supporters had lobbied to have the entire new airport named after Colonel Cook,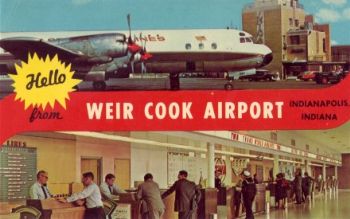 but the Indianapolis Airport Authority decided it was best to have the city's name linked to the airport and to honor Cook in other ways. The new airport opened in October 2008.
"Looking at what was feasible and possible, this seemed the proper way to go, so we enthusiastically support it," Ryan tells the newspaper.
Read the complete article, "Airport board named terminal for local hero," at IndyStar.com or access this previous story.
Back