Former Coach and Athletic Director Ted Katula Passes Away at Age 78
February 19, 2010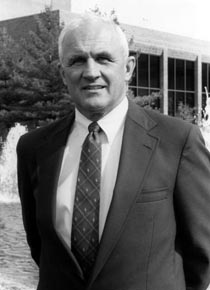 February 19, 2010, Greencastle, Ind. — Theodore M. Katula Jr., who served DePauw University for nearly 40 years as a coach and administrator and is known fondly as "Katman" to two generations of students and alumni, died this morning at a Florida hospital. He was 78 years old.
Arrangements will be private, but the family plans to hold a public memorial service at DePauw in the spring. Details will be announced later.
"This is a very sad day for the DePauw community," notes Brian W. Casey, the University's nineteenth president. "In my interactions with DePauw alumni, I hear many stories about Ted Katula. Invariably, all involve some humor and are told with a great amount of love for Ted and what he did to make the student experience special for so many of our undergraduates. We send our condolences to Ted's wife Linda (Martin '62), their four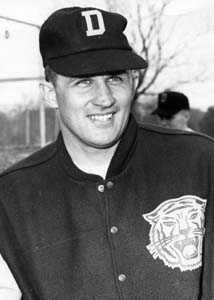 children and the entire Katula family. He has done much for this institution."
Adds S. Page Cotton, director of athletics at DePauw, "While he is known for his coaching career, Ted's contributions to DePauw went well beyond athletics. He touched upon so many lives from all parts of the campus through his work with students on the Union Board and later with alumni relations. He will be remembered as a DePauw legend."
Born in Campbell, Ohio on December 6, 1931, Ted Katula was a four-sport standout in high school and was captain of the football, basketball, baseball and golf teams. He enrolled at Ohio State University, but was drafted into the U.S. Army and served two years as a paratrooper. After serving his country, Katula returned to complete his college education and continued as a multi-sport athlete until a knee injury took him out of football. He then concentrated on golf, becoming captain of the 1957 and 1958 Ohio State golf teams.
Katula earned a B.A. from Ohio State, where he continued with graduate studies, eventually earning an M.S. from Indiana University.
After briefly serving as an assistant coach at Oberlin College, Katula came to DePauw in the summer of 1959 to serve as head baseball coach and as an assistant to then-head football coach Tom Mont. Over the years, he also coached wrestling and golf. His golf teams produced a number of members of the DePauw University Athletic Hall of Fame, including Dan Quayle '69, who went on to become the 44th Vice President of the United States; Mark Rolfing '71, television golf analyst; and Randy Reifers '68, who has competed in the U.S. Senior Open.
An associate professor of health and physical performance (now kinesiology) at DePauw, Ted Katula is also fondly recalled for his work with students outside of the athletic arena. In 1967 he was appointed director of student union activities and assistant dean of students. As part of that role, Katula coordinated special events and programs sponsored by the Union Building, and worked with students to bring an amazing roster of musical acts to campus, which today reads like a Who's Who of classic pop and rock music. Guests who came to DePauw on Katula's watch included Smokey Robinson and the Miracles, Billy Joel, the Isley Brothers (with Jimi Hendrix on guitar),
The Byrds, the Carpenters and the Temptations.
Katula remained a coach during that period, but put aside athletics in 1978 to work in alumni relations and student activities.
The coach couldn't stay away from competition for long. In February 1987, "Katman" was appointed director of athletics and men's and women's golf coach. He led the men's team to five conference championships in 11 years and nine appearances in the NCAA Championships, while his women's team finished in the top four nationally for five straight years.
Katula, who was inducted into the DePauw Athletic Hall of Fame in 2000, also continued to compete in senior amateur golf tournaments across the United States. In 1987 he was among the final 16 at the Senior Amateur Tournament in Bethlehem, Pennsylvania, after earning medalist honors at the Indiana qualifier.
On November 12, 2005, DePauw announced the establishment of the Katula Fund for Athletics and named its athletic directorship the Theodore
M. Katula Director of Athletics. Many of Katula's past players and DePauw colleagues were on hand to honor him at a special post-Monon Bell event at Walden Inn.
Jack Nicklaus, a fellow Ohio State golfer, said,

[Download Video: "Jack Nicklaus' Message for 'Katman'" - 3692kb] "You and I have been great friends for a long time," in a video tribute to Katula which was played at the dinner. He added, "A guy who can play football and a guy can play golf and do 'em both very well is a very talented guy," noting that Katula took "his talents to DePauw where you've led them very well for a long time."
Dan Quayle called Katula

[Download Video: "Greeting from Dan Quayle '69" - 4441kb] "a great friend, a great mentor, somebody I've learned a lot from." The former vice president declared, "The values of hard work, determination, competition and integrity -- those are the values you instilled in me."
The event came shortly after Ted Katula and his family had informed the DePauw community that he was in the early stages of Alzheimer's disease. The struggle that was ahead did not
keep "Katman" from his old standby, humor.

[Download Audio: "A Thanks from 'Katman'" - 476kb] "We had an alumnus and member of our Board of Trustees from Rochester, Indiana -- the great Ed Boswell," Katula told the crowd at the dinner. "He used to come here with his helicopter, and if we weren't doing good he got in the helicopter and got out of town," he said to laughter. "Tonight we've had a great time, but we're going to have a better time. And all I can say is what Ed Boswell said when he was inducted into the [DePauw Alumni Association] Athletic Hall of Fame. Thanks."

A 1994 video interview with Ted Katula is available on YouTube.
There, you'll also find footage of the Katula-coached Tiger baseball team in the 1961 NCAA Mideast Regionals.
•••
Ted Katula Coaching Record

Baseball
Year
Overall Record
Conference Record (finish)
NCAA
1960
12-5
6-2 (2nd)
1-2 (2nd in Mideast Regional)
1961
9-13
7-4 (3rd)
1-1
1962
7-9
5-5 (tie-4th)
1963
8-9
6-4 (second)
1964
5-10
5-5 (fourth)
3-0 record vs. Wabash
Wrestling
Year
Overall
Conference
Notes
1964-65
6-3
3rd
1965-66
7-4
2nd
1966-67
9-2
3rd
losses to Purdue and Ball State
3-0 vs. Wabash in dual matches
Men's Golf
Year
Overall
Conference
NCAA
1965
7-12-2
6th
1966
8-10-1
2nd
1967
8-7
4th
1987
N/A
1988
N/A
2nd
1989
N/A
1st
tie-12th
1990
N/A
2nd
tie-19th
1991
N/A
2nd
t-17th
1992
N/A
1st
12th
1993
N/A
2nd
21st
1994
N/A
1st
16th
1995
N/A
1st
14th
1996
N/A
1st
11th
1997
N/A
2nd
tie-14th
1998
N/A
2nd
Only team in ICAC history to finish no lower than first or second.
In the three years that no team earned an invitation to the NCAA Championships, individuals were invited.
4-2-1 vs. Wabash
Women's golf (championship appearances)

Year
NGCA Championship
1988
4th
1989
tied-3rd
1990
3rd
1991
2nd
1992
3rd
Football Assistant Coach: 1959-78
Record in Monon Bell games: 12-7-1
Back