Tigers Extend Win Streak to 18 with 65-39 SCAC Win over Birmingham-Southern
February 21, 2010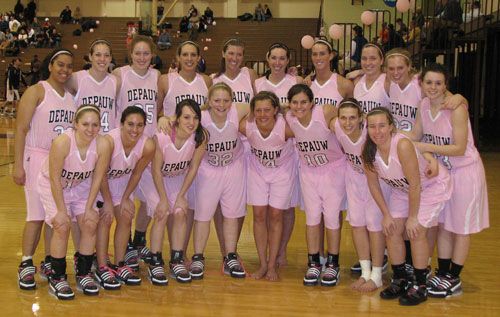 February 21, 2010, Greencastle, Ind. — DePauw held visiting Birmingham-Southern to a season-low 39 points which was 34 below their season average and took a 65-39 Southern Collegiate Athletic Conference win over Birmingham-Southern in the regular season home finale at the Neal Fieldhouse.
DePauw improved to 22-3 overall and 15-1 in the SCAC and extended their win streak to 18. The victory also extended the Tigers' overall home win streak to 49 straight and their regular season string to 66. It also was DePauw's 54th straight SCAC home victory. Birmingham-Southern dropped to 13-12 overall and 7-9 in the conference.
The Tigers scored the final five points of the first half and went to the break with a 29-18 lead. The Panthers briefly closed the gap to nine in the first two minutes of the second half before DePauw scored 10 straight to start a 20-4 run and put the game away.
Kate Walker paced DePauw with 11 points, four assists and three steals, while Jenna Fernandez matched a season high with 11 rebounds. The Tigers held a 47-29 advantage on the boards.
Lauren Parks paced Birmingham-Southern with 10 points, while Jamie Key grabbed six rebounds.
The Tigers shot 35.6 percent from the floor and held the Panthers to only 27.7 percent.
The game marked the final regular season home game for seniors Kristin Barrow, Danielle Boraz, Jenna Fernandez and Emily Marshall. The four have compiled a 103-16 overall record, a 53-5 SCAC mark and a 49-0 record at the Neal Fieldhouse.
DePauw returns to action on Friday, February 26, when they open Southern Collegiate Athletic Conference tournament play at 1 p.m. CST. The Friday semifinal games take place at Belhaven College in Jackson, Miss., with the semifinals and championship at Millsaps College on Saturday and Sunday, respectively.
Follow DePauw Athletics on Twitter | Become a Fan of DePauw Athletics on Facebook
Back