Charles Adams '64 Honored as Mattoon, IL's 'Citizen of the Year'
February 22, 2010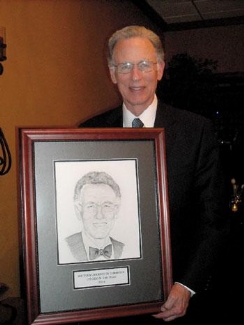 February 22, 2010, Greencastle, Ind. — "You really have no idea how surprised I am," said Charles A. Adams, a 1964 graduate of DePauw University, as he was named the 2010 Citizen of the Year Saturday by the Mattoon, Illinois Chamber of Commerce. "This is an amazing award. I really appreciate it." (photo: Dawn James)

A story in today's Mattoon Journal Gazette provides a long list of Adams' community involvement over the years, including membership in both the city and state chambers; and serving the Mattoon Foundation for Academic Excellence, Mattoon Area Community Foundation, Mattoon Police Association, Coles County Council on Aging, Boy Scouts, Shriners H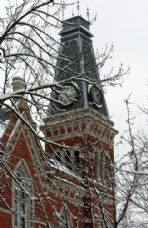 ospital for Children, Krannert Center for the Performing Arts, and Sarah Bush Lincoln Health System. The chairman of Howell Asphalt Company and president of Howell Paving, Adams has also been president of the Associated General Contractors of Illinois and Illinois Construction Industry Committee, and currently serves on the boards of the Eastern Illinois University School of Business Advisory Board, Mattoon Area YMCA Planning Committee, and First Mid-Illinois Bank & Trust, among other organizations.
The newspaper notes, "Adams received his bachelor of arts in economics from DePauw University in Greencastle, Ind., and served as a captain in the U.S. Air Force from 1964-1968."
Read more by clicking here.

Back