New York Times Writes of Prof. Matt Hertenstein's Research on Communicating Via Touch
February 23, 2010
February 23, 2010, Greencastle, Ind. — "Psychologists have long studied the grunts and winks of nonverbal communication, the vocal tones and facial expressions that carry emotion," writes Benedict Carey in today's New York Times. "But in recent years some researchers have begun to focus on a different, often more subtle kind of wordless communication: physical contact."
The story notes, "In a series of experiments led by Matthew Hertenstein, a psychologist at DePauw University in Indiana, volunteers tried to communicate a list of emotions by touching a blindfolded stranger. The participants were able to communicate eight distinct emotions, from gratitude to disgust to love, some with about 70 percent accuracy."
"We used to think that touch only served to intensify communicated emotions," Dr. Hertenstein tells the Times. The professor adds that the research he conducted with the help of DePauw students indicates it's "a much more differentiated signaling system than we had imagined."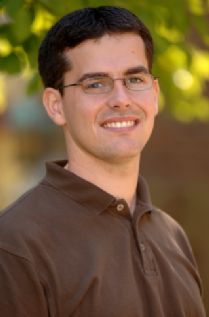 Read the article, "Evidence That Little Touches Do Mean So Much," at the newspaper's Web site.
The work of Matt Hertenstein, associate professor of psychology at DePauw, has previously been featured in American Baby and Prevention magazines, on the Canadian Broadcasting Corporation's program, The Nature of Things, in Sunrise magazine and the Toronto Sun, and on National Public Radio.
Research he conducted on the corrolation between between smiles in college yearbook photos and divorce later in life received worldwide attention last spring, with coverage in British media outlets, United Press International, Yahoo! and a piece which aired April 16, 2009 on NBC's Today. The research was recently included in the New York Times Magazine's "Ninth Annual Year in Ideas" and was cited by India Today.
Visit Professor Hertenstein's Emotion Lab online by clicking here.
Source: New York Times
Back