Indianapolis Star Article Outlines Legacy of Ted Katula
February 23, 2010
Also: Former Coach and Athletic Director Ted Katula Passes Away at Age 78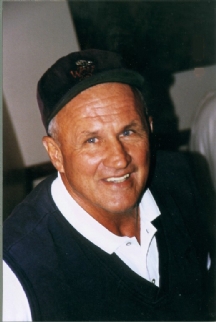 February 23, 2010, Greencastle, Ind. — "Ted Katula played college football under one legendary coach, was a teammate of perhaps the greatest golfer ever and later coached a future vice president of the United States," writes Michael Pointer in today's Indianapolis Star. "But those who knew him say that's just a small part of his legacy on the DePauw University campus in Greencastle, where Katula was nicknamed 'Katman'.''
Page Cotton, who is director of athletics at DePauw and succeeded Katula in that role, tells the newspaper, "Everyone who has met Ted has a story about him in some way, shape or form. I think that just speaks volumes about the effect he had on people at DePauw, not just in athletics, but among the faculty and students.''
Katula, who worked for DePauw in a variety of capacities from 1959 until his retirement in 1998, died Friday in Punta Gorda, Florida. As golf coach, his players included Dan Quayle '69, the 44th Vice President of the United States; television golf analyst Mark Rolfing '71; and FOX News Channel anchor Bret Baier '92. A graduate of Ohio State University, Katula played football for coach Woody Hayes and he and Jack Nicklaus, a lifelong friend, played on the Buckeye golf team.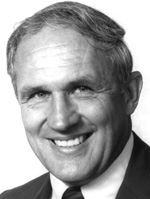 "He was a no-nonsense guy,'' says Nick Mourouzis, who was DePauw's head football coach from 1981 to 2003. "You had to do it his way or no way. He had that little bit of Woody (Hayes) in him. But he was just a great guy to be around.'' The man known as "Coach Nick" adds, "Everyone loved him. He had quite an impact not just on athletes, but on students in general.''
Katula was an associate professor of health and physical performance (now kinesiology) at DePauw.
Read the complete story -- "Katula fondly remembered: Legendary coach, administrator, ambassador for DePauw dies at 78" -- at IndyStar.com.
A Friday announcement of Ted Katula's passing can be accessed here.
Source: Indianapolis Star
Back