Ensemble Directed by Prof. Gabriel Crouch Produces "Outstanding Disc"
February 27, 2010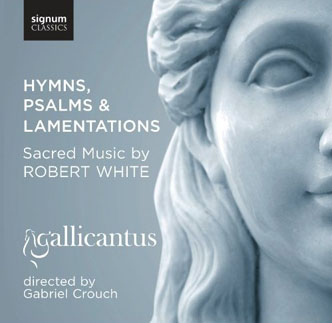 February 27, 2010, Greencastle, Ind. — "What an outstanding disc," begins a review in the UK's Gramophone of Hymns, Psalms and Lamentations: Sacred Music by Robert White. The compact disc is by Gallicantus, an early music vocal group which is directed by Gabriel Crouch, assistant professor of music at DePauw University.
"The present recording is sung entirely by male voices and never once is there a loss of clarity, a hint of muddiness," writes the magazine's Ivan Moody. "The music is sublime," adds the reviewer. The headline says the CD offers "luminous performances of sublime Tudor-period music."
The recording is reviewed in Gramophone's March 2010 issue.
In December, Britain's Observer, the world's oldest Sunday newspaper, noted, "This impressive debut disc by Gallicantus (an all-male group from the Tenebrae choir) includes White's motets and hymns,
emphasising his response to the texts and his eloquent way with the single Hebrew letters that begin each Lamentation. The vocal balance is slightly bass-heavy, but the sound is beautifully recorded."
Read more in this previous story.
The Road to Paradise, another compact disc which was produced by Gabriel Crouch, was among the BBC Music Award nominees in 2008. For eight years (1996-2004), Crouch was a member of the King's Singers, and performed approximately 1,000 concerts with the group in venues ranging from New York City's Lincoln Center and London's Royal Albert Hall to the Suntory Hall in Tokyo; from opera houses in Cape Town and Vienna to the great recital halls of the Santa Cecilia (Rome) and Concertgebouw (Amsterdam). He also participated in a dozen recordings, including one which was nominated for a Grammy Award.
Back