Lee Hamilton '52: End Filibuster, Improve Dialogue
February 28, 2010
February 28, 2010, Greencastle, Ind. — "Former Rep. Lee Hamilton (D-Ind.) said he wants an end to the filibuster," writes columnist Walter Alarkon. "Hamilton, a centrist who has become one of his party's elder statesman, told The Hill that the majority should rule in Congress." Hamilton, who served 34 years in the House of Representatives and co-chaired both the 9/11 Commission and Iraq Study Group, is a 1952 graduate of DePauw University.
"My own personal view is that the Senate ought to be a majoritarian body," Hamilton says. "I don't like the filibuster, never have. I suppose that's kind of radical." But the Democrat does not foresee anything changing soon. "That takes a change in the rules," he adds. "That's just not going to happen at this point in time."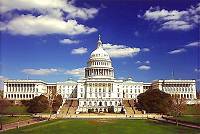 Hamilton tells The Hill that President Barack Obama's "maximum objective" for health care legislation should be to find bipartisan support, something last week's White House summit on health care was designed to do. "So often when they meet ... the parties talk past one another, and there's not a real engagement. What is necessary is that each side take the time not just to listen but to understand the point of view of the other side and then to see what extent to incorporate their views within their framework for the legislation that is pending. And it's incumbent on both parties to make proposals that are realistic that are pragmatic, that are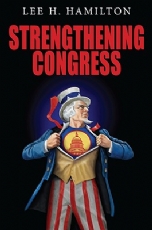 substantial, that are serious, not done for political show, and that are responsive to the central issues that are involved."
Read more by clicking here.
Lee H. Hamilton has been appointed co-chair of the new Blue Ribbon Commission on America's Nuclear Future. Now president and director of the Woodrow Wilson International Center for Scholars, he previously co-chaired both the 9/11 Commission and Iraq Study Group. He recently authored Strengthening Congress. Learn more about him in this recent article.
Back