A Celebration of Ted Katula's Life Scheduled for April 24
March 5, 2010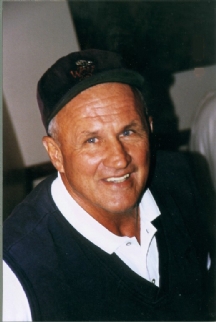 March 5, 2010, Greencastle, Ind. — Friends and former students and colleagues of Ted Katula are invited to remember the legendary "Katman" on Saturday, April 24. A celebration of Katula's life will begin at 9:30 a.m. in Meharry Hall of historic East College and will be followed by a reception in the galleria of Walden Inn.
Katula, who served DePauw for nearly 40 years as a coach and administrator, died February 19 at a Florida hospital. He was 78 years old.
A graduate of Ohio State University, Katula came to DePauw in the summer of 1959 to serve as head baseball coach and as an assistant to then-head football coach Tom Mont. Over the years, he also coached wrestling and golf. An associate professor of health and physical performance (now kinesiology), Katula also served DePauw as director of student union activities and assistant dean of students and
also worked in alumni relations and student activities. In February 1987, "Katman" was appointed director of athletics. He retired in 1998.
In lieu of flowers, the Katula family asks that contributions be made to the Katula Fund for Athletics.
Learn more about Ted Katula here. He was the subject of a February 23 article in the Indianapolis Star.
Back