Nobel Laureate F.W. de Klerk to Celebrate 20th Anniversary of Apartheid's End at May 7 Ubben Lecture
March 16, 2010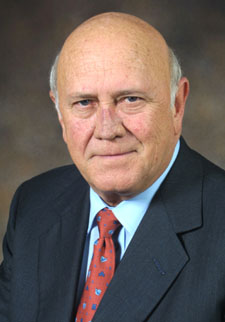 March 16, 2010, Greencastle, Ind. — F.W. de Klerk, the former president of South Africa who shared the Nobel Peace Prize with Nelson Mandela for their efforts to end apartheid, will visit DePauw University on Friday, May 7. President de Klerk will present "In Celebration: The 20 Year Anniversary of the End of Apartheid and the Challenges Ahead" at 7:30 p.m. in Kresge Auditorium, Green Center for the Performing Arts (605 S. College Avenue). The Timothy and Sharon Ubben Lecture is presented free of admission charge and the public is invited.
The seventh and final State President of apartheid-era South Africa, de Klerk is best known for engineering the end of apartheid, South Africa's racial segregation policy, and supporting the transformation of South Africa into a multi-racial democracy. His DePauw visit marks the 20th anniversary of apartheid's end: a monumental change in world history.
De Klerk will become the seventh Nobel Laureate to deliver an Ubben Lecture at DePauw. The previous visitors included Mikhail Gorbachev, Shimon Peres, Willy
Brandt, Leon Lederman, Elie Wiesel and Ferid Murad, a 1958 DePauw graduate.
Frederik Willem de Klerk was born in Johannesburg in 1936. The son of Senator Jan de Klerk, a senior cabinet minister, he earned B.A. and L.L.B. degrees from Potchefstroom University for Christian Higher Education. An attorney and community activist, de Klerk was elected as the member of Parliament for Vereeniging in November 1972.
In 1978, shortly after his forty-second birthday, and after only five and-a-half years as a back-bencher, de Klerk was appointed to the cabinet, and was responsible for a number of ministerial posts over the next 11 years, overseeing areas including Mining and Environmental Planning, Public Service, and National Education.
In July 1985, de Klerk became chairman of the Minister's Council in the House of Assembly. He became leader of the House of Assembly on December 1, 1986. On February 2, 1989, the caucus of the National Party chose him as the national leader of the party.
On August 15 1989, after the resignation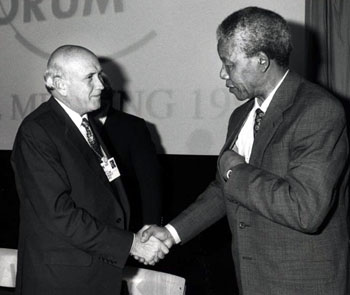 of President P.W. Botha, de Klerk became acting state president, and after the general election of September 6, was inaugurated as state president on September 20, 1989.
The new leader called for a non-racist South Africa and for negotiations about the country's future. He lifted the ban on the African National Congress and released Nelson Mandela after 27 years in prison. He brought apartheid to an end and opened the way for the drafting of a new constitution for the country based on the principle of one person, one vote. (at left: de Klerk and Mandela at the annual meeting of the World Economic Forum in January 1992)
"It is time for us to break out of the cycle of violence and break through to peace and reconciliation," de Klerk stated on February 2, 1990. "The silent majority is yearning for this. The youth deserve it." Nine days later, Mandela was freed.
During his term, President de Klerk also gave orders to roll back South Africa's nuclear weapons program, and the country's nuclear disarmament was essentially completed a year later.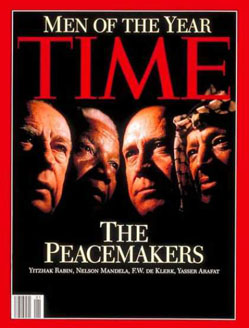 In 1993, de Klerk, Mandela and Yasser Arafat and Yitzhak Rabin were named TIME magazine's "Men of the Year" for their efforts toward promoting peace. (on cover, l-r: Rabin, Mandela, de Klerk and Arafat)
After South Africa's first free elections in 1994, de Klerk became vice president in the government of national unity under Mandela, a post he kept until 1996. A year later he gave over the leadership of the National Party and retreated from politics.
F.W. de Klerk has been awarded the South African Decoration for Meritorious Service (1981); the 1992 Prix du Courage Internationale (The Prize for Political Courage); was co-recipient of the UNESCO Houphouet-Boigny Prize; and was awarded the Prince of Asturias Prize in Spain. In July 1993, de Klerk and Mandela jointly received the Philadelphia Peace Prize, and on December 10 of that same year the two men were presented with the Nobel Peace Prize.
In 1999, Mr. de Klerk published his autobiography, The Last Trek: A New Beginning, and established the F. W. de Klerk Foundation, which is dedicated to the promotion of peace in multi-communal societies.
In March 1994, he established the Global Leadership Foundation. Its objective is to play a constructive role in the promotion of peace, democracy, and development. The organization will help national leaders who face complex economic and political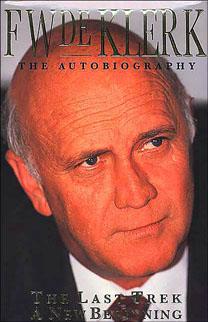 challenges by providing confidential advice, especially but not exclusively in the developing world and emerging markets. A number of internationally respected former leaders and experts have joined de Klerk in this new initiative.
He is the honorary chairman of the Prague Society for International Co-operation in the Czech Republic; a member of the Assembly of the Parliament of Cultures in Istanbul; and plays a substantial role in Forum 2000, a think-tank initiated by former President Vaclav Havel and Nobel laureate Eli Wiesel. In addition, he serves on the advisory boards of the Peres Centre for Peace in Israel and the Global Panel in Germany.
"All human relations require constant and careful attention," de Klerk has said. "When we stop changing, we stop growing. When we stop growing, we start to die."
Established in 1986 through the generous support of 1958 DePauw graduates Timothy H. and Sharon Williams Ubben, the Ubben Lecture Series was designed to "bring the world to Greencastle" and presents events which are available for students, faculty, staff, alumni and the local community to enjoy.
F.W. de Klerk will be the fourth and final Ubben Lecturer of the 2009-10 academic year. Academy Award-nominee Jason Reitman visited DePauw yesterday, March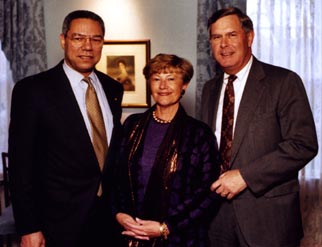 15, and discussed "Finding Your Way Up in the Air." On November 30, 2009, SuperFreakonomics co-author Steven D. Levitt came to DePauw, while the first-ever Ubben Debate brought Howard Dean and Karl Rove to campus on September 11, 2009.
Other previous guests have included Tony Blair, Benazir Bhutto, Spike Lee, Margaret Thatcher, John Major, Jesse Jackson, Peyton Manning, Ambassador L. Paul Bremer, Greg Mortenson, Todd Rundgren, Ross Perot, Mitch Albom, ice cream entrepreneurs Ben Cohen & Jerry Greenfield, General Wesley Clark, Naomi Wolf, David Plouffe, Paul Volcker, Doris Kearns Goodwin, Barbara Bush, Ralph Nader, Frank Warren, Harry Belafonte, Jane Pauley, Mike Krzyzewski, Eric Schlosser, Julian Bond, E.O. Wilson, Liz Murray, David McCullough, Paul Rusesabagina, Paul Tsongas, Gwen Ifill, Brian Mulroney, Ken Burns, George Will, David Broder, Sister Helen Prejean, William Bennett and Mary Frances Berry. (above: Gen. Colin Powell with Sharon and Tim Ubben; November 2, 1994)
To view a complete roster of Ubben Lecturers -- which includes links to video clips and news stories -- click here.
Back