Pairing Up
March 5, 2010
Dozens of returning alumni in law and medicine will be joined by more than 100 students for DePauw University's Alumni Attorneys and Physicians Weekend, March 5-6. The University has organized similar events in the past, but this year's is the first to combine attorneys and physicians in the same session.
"There are a lot of parallels between the legal and medical professions," says Jennifer Clarkson Soster '88, executive director of alumni relations and member of the weekend's planning committee. "The self-assessment and testing process is similar for students who want to pursue a career in either field, and there are a number of professional overlaps, particularly in ethics."
On Saturday, March 6, in the Pulliam Center's Watson Forum, Marcia A. McKelligan, the Blair Anderson and Martha Caroline Rieth Professor of Applied Ethics and professor of philosophy, will moderate two panel presentations that deal with the intersection of healthcare and law in modern society.
Beginning at 9 a.m., panelists taking part in The Pressing Social and Legal Issues Related to Scarcity and Allocation of Medical Resources will discuss how physicians make treatment decisions when faced with limited time and resources.
The opening question to panelists reads, "'Physicians should merit the confidence of the patients entrusted to their care, rendering to each a full measure of service and devotion.' This is the first statement in the Principles of Ethics of the American Medical Association. However, the scarcity of resources, including equipment, drugs and time, make it difficult at best to provide the 'full measure of service and devotion.' When these conditions occur, what considerations should guide these difficult decisions?"
At 10:30 a.m., a second panel will convene for Is Healthcare a Privilege, a Right or a Responsibility?, a question—posed by Tom Brokaw to Barack Obama and John McCain during the presidential debates—that remains at the center of the nation's political discourse.
Both panels are free and open to the public.
In addition to engaging alumni in timely and meaningful discussions about legal and healthcare issues, the event meets the criteria for continuing education required by many professionals. But alumni won't be the only ones to benefit from the event. Current students will have a chance to explore a future in law or medicine with alumni who were once in a similar position.
"A key goal of the program is to assist our students in assessing and preparing for admission and success in law or medical school," Soster says. "To that end, we invited DePauw alumni currently enrolled in these graduate school programs as well as practicing alumni attorneys and physicians who can describe the reality of their working lives. We want to utilize the strong DePauw alumni network to better help our students prepare for life after DePauw."
More than 100 students have registered to take part in Saturday's Day in the Life panels, speed interview sessions with alumni in a field of their interest, and information sessions on how to succeed in medical or law school.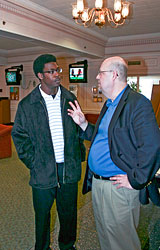 "It's a unique opportunity for students to be shoulder-to-shoulder with professionals who are informing critical policy decisions in this country," says Steve Langerud, director of career development and planning committee member. "We're trying to get students to think inside-out, to think about what they want their lives to look like so they can approach these alumni and ask where they fit in the fields of law or medicine."
Langerud (pictured, right) believes that bringing together students and alumni for events such as Alumni Attorneys and Physicians Weekend will benefit DePauw's future classes, as well.
"Our students are alumni-in-training," Langerud says. "The more we do these events, the more our students will be engaged after they've graduated."
Further information, including a full schedule of events, can be found on the Alumni Attorneys and Physicians Weekend Web site.
Back