New Scientist Notes Prof. Matt Hertenstein's Research
March 6, 2010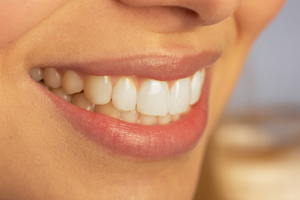 March 6, 2010, Greencastle, Ind. — A New Scientist story detailing new research on smiling and longevity, which was conducted at Michigan's Wayne State Universuty, also notes the findings of a DePauw University professor who earlier looked into smiling and divorce.
The Wayne State study finds, "Pro baseball players in the 1950s who genuinely beamed in their official photographs tended to outlive more sullen-looking sportsmen and those who put on fake smiles," reports Ewen Callaway. "Players from the U.S. major league with honest grins lived an average of seven years longer than players who didn't smile for the camera and five years longer than players who smiled unconvincingly."
The article later asks, "Is a smile in a photograph really a good measure of overall happiness? ... Matt Hertenstein, a psychologist at DePauw University in Greencastle, Indiana,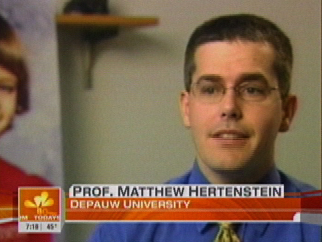 adds that smiling in a photo may not simply reflect happiness: people who are conscientious might be more willing to heed a photographer's request to 'say cheese', and conscientiousness has also been linked to longevity. Alternatively, players who smiled could be more sociable than others. 'A long line of work indicates that greater and deeper social networks increase well-being and longevity in life,' he says."
Access the complete text at New Scientist's Web site.
Matthew J. Hertenstein is an associate professor of psychology at DePauw. Research conducted by Dr. Hertenstein and his students found that people who smiled in college yearbook photos were less likely to be divorced later in life. Their work has received worldwide attention since it was published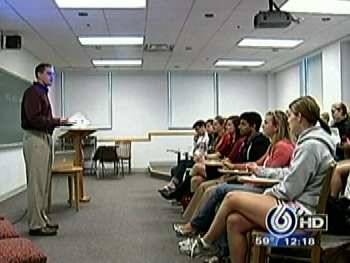 last spring in the journal Motivation and Emotion. Coverage began in British media outlets, and spread to United Press International, Yahoo! and a piece which aired April 16, 2009 on NBC's Today. The research was recently included in the New York Times Magazine's "Ninth Annual Year in Ideas" and was cited by India Today.
Hertenstein's research on communicating through touch has been in the news recently. The professor was interviewed on February 23 by ABC's Diane Sawyer, the same day his work was highlighted in the New York Times.
Visit Professor Hertenstein's Emotion Lab online by clicking here.
Back