#11 DePauw Set to Battle #4 Hope in NCAA Second Round
March 6, 2010
INTERACTIVE BRACKET | HOPE COLLEGE HOST SITE | LISTEN LIVE | DEPAUW GAME NOTES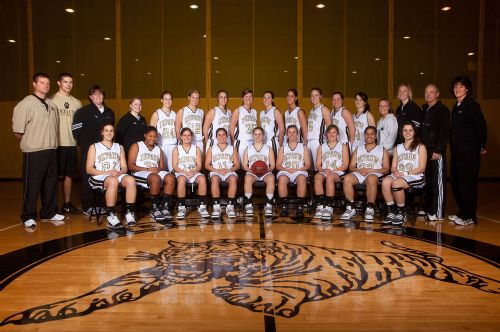 March 6, 2010, Holland, Mich. — Following Friday's 79-46 win over Lakeland in the opening round of the NCAA Division III Championship, #11 DePauw (26-3) takes on host #4 Hope College (28-1) in a second round contest tonight. Tipoff from DeVos Fieldhouse is set for 7 p.m.
The second-round winner advances to the round of 16 next Friday where they'll face the winner of the Medaille at Marymount game.
DePauw freshman guard Kate Walker scored a career-high 15 points and Emily Marshall grabbed 15 rebounds in the Tigers' first-round victory. DePauw jumped out to a 16-2 lead in the opening 6:27 and never trailed.
The Tigers are making their seventh straight NCAA appearance and 11th in 15 years with an all-time tournament record of 19-9. DePauw enters the game on a 22-game win streak and earned automatic qualification by winning its ninth Southern Collegiate Athletic Conference title in 12 years with Sunday's 63-37 victory over Centre.
Emily Marshall leads the Tigers with 9.5 points and 9.7 rebounds per game, while Jenna Fernandez and Katie Aldrich follow with 9.4 and 9.3 points, respectively. Walker is the team leader with 2.9 assists, while Brooke Osborne paces the team with 61 three-pointers and Lauren Goff follows with 50.
This marks the ninth straight time and 12th in the last 14 seasons the Tigers have won at least 22 games. They've won at least 20 games in 13 of the last 14 seasons and at least 26 in six of the last nine.
The Tigers entered the tournament as the nation's leader in rebound margin (+17.1), ranked sixth in fewest turnovers per game (14.0), sixth in scoring margin (+21.8), eighth in scoring defense (50.5), eighth in assist turnover ratio (1.02) and 11th in three-point percentage (36.5). The scoring defense is 3.4 points per game below the school record of 53.9 in 1996-97.
Hope is 28-1 after last night's 68-40 win over Denison. Carrie Snikkers led the Flying Dutch with 21 points and eight rebounds, while Philana Greene dished out six assists and recorded three steals.
Snikkers leads Hope with 13.0 points and 7.1 rebounds per game and hits 50.5 percent from the floor. Greene follows with 8.6 points and leads with 3.6 assists and 3.4 steals.
The Flying Dutch have won 19 straight after suffering a 51-47 loss to Carthage in a tournament at Oglethorpe. That loss was the first of eight games which Snikkers missed due to injury. They earned automatic qualification into the NCAA Championship by winning the Michigan Intercollegiate Athletic Association title with a 68-49 win over Calvin last Saturday.
Hope is 19-0 at home this year and has won 60 consecutive home games with the last home loss coming to Calvin by a 60-57 score on January 13, 2007.
Follow DePauw Athletics on Twitter | Become a Fan of DePauw Athletics on Facebook
Back