DePauw's Season Ends in NCAA Second Round Loss
March 6, 2010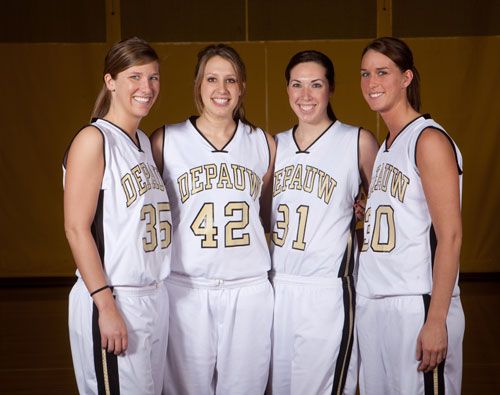 March 6, 2010, Holland, Mich. — DePauw's season and its 22-game win streak came to an end this evening as Hope College defeated the Tigers, 68-54, in NCAA Division III Championship Second Round play at DeVos Fieldhouse.

The 11th-ranked Tigers finished the season at 26-4, while the fourth-ranked Flying Dutch improved to 29-1 and advanced to the round of 16 with their 61st straight home win.

Hope jumped out to a 7-2 lead in the opening 2:25 as Carrie Snikkers hit a three and a jumper and Erika Bruinsma followed with a layup. DePauw's first field goal came with 14:36 left in the half on Katie Adlrich's jumper.

The Flying Dutch scored nine straight later in the half to extend the margin to 25-13 with just over four minutes to play. Danielle Boraz scored the Tigers' final five points of the half as DePauw trailed by a 32-23 count at the intermission.

DePauw opened the second half with a 9-0 run as Emily Marshall and Jenna Fernandez each hit buckets before Brooke Osborne added a three and Katie Aldrich hit a jumper to tie the score at 32-32 with 15:41 left in the game. Aldrich was unable to convert the free throw for the three-point play and Miranda DeKuiper put the Flying Dutch back in the lead with a three-pointer at the 15:23 mark.

Katie Mathews closed the gap to one on the Tigers' next possession, but Snikkers hit a jumper and DeKuiper nailed a three to push Hope's lead to 40-34. DePauw trimmed it to four, but the Flying Dutch scored the next seven to make it 47-36. The Tigers got no closer than nine the rest of the way.

"Congratulations to Hope," DePauw head coach Kris Huffman said. "They're a special team with depth."
Osborne led the Tigers with 12 points, while Marshall and Aldrich followed with 10. Mathews led DePauw with 10 rebounds and Jenna Fernandez recorded four steals.

Snikkers led Hope with 18 points, nine rebounds and six blocks, while Philana Freene had 10 points, eight rebounds and four assists. Jenny Cowen led the Flying Dutch with five steals.

DePauw shot a season-low 29.2 percent from the floor, while Hope connected on 42.6 percent. The Tigers held a 46-29 advantage on the boards and hauled down 23 offensive rebounds, but could only convert those into 14 second-chance points.

"This was a group I loved to coach," Huffman said of her team. "We weren't ready for it to end."
The Tigers' four seniors, pictured above (Emily Marshall, Danielle Boraz, Jenna Fernandez, Kristin Barrow) closed out their careers with a 107-17 record, four NCAA postseason appearances, three Southern Collegiate Athletic Conference titles and a national championship in 2007.
Follow DePauw Athletics on Twitter | Become a Fan of DePauw Athletics on Facebook
Back