Al-Qaida's Tactics "Have Become Clearer," Writes Lee Hamilton '52
March 10, 2010
March 10, 2010, Greencastle, Ind. — Since the terrorist attacks of September 11, 2001, "We have fought, and continue to fight, wars in Iraq and Afghanistan at enormous human and financial cost," writes veteran statesman Lee H. Hamilton. "We have created agencies, like the Department of Homeland Security, to improve our defenses and overhauled parts of the intelligence community. We have had some successes and made some mistakes, but my feeling is that we have not gotten the security we have paid for."
In an Indianapolis Star op-ed, Hamilton, a 1952 graduate of DePauw University who served 34 years in the U.S. House of Representatives, opines, "Al-Qaida is wounded but dangerous, still seeking ways to attack us. There is no reason to relax. Our preventive measures must keep pace, and we must continuously ask ourselves fundamental questions about our enemy, our objectives and our tactics."
The Democrat who co-chaired the 9/11 Commission and Iraq Study Group continues, "Our goal is to protect our citizenry within our constitutional
system at a justifiable cost. We will never attain perfect intelligence, and we cannot reduce the risk of a terrorist attack to zero." Al-Qaida, he asserts, has suffered much "self-inflicted" damage in recent years. "The organization's popularity among Muslims around the world has declined and we have substantially downgraded its capabilities. But the United States remains unpopular, and the terrorist network is adapting to newfound challenges. Al-Qaida's tactics have become clearer. They seek to provoke us into over-reaction and costly wars that will exhaust and bankrupt us. They want to divide our allies and us. They aim to destabilize Middle Eastern governments, such as Saudi Arabia, Jordan and, more recently, Yemen."
Hamilton states, "In the years ahead, America will leave Iraq and troop levels in Afghanistan will decrease. Intelligence gathering, cooperation with friendly countries and training missions will be of paramount importance. Predator drone attacks may remain a prominent feature of our counterterrorism policies. As the United States adapts its policies, we must learn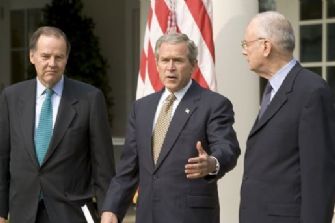 from the mistakes we have made, no easy task with an issue so heavily exploited for political gain." (at left: 9/11 Commission co-chairs Kean and Hamilton deliver their panel's report to President Bush; July 22, 2004)
Read the complete column at IndyStar.com.
Lee Hamilton has been appointed co-chair of the new Blue Ribbon Commission on America's Nuclear Future. Now president and director of the Woodrow Wilson International Center for Scholars, he recently authored Strengthening Congress. Learn more about him in this article.
Back