Advice Columnist and Author Dan Savage Here Tuesday
March 11, 2010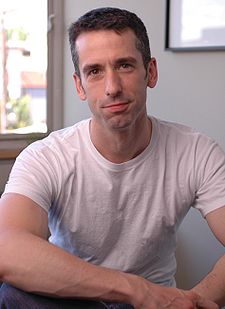 March 11, 2010, Greencastle, Ind. — Dan Savage, an author whose weekly "Savage Love" advice column appears in more than 70 newspapers worldwide, will visit the campus of DePauw University on Tuesday, March 16. Savage, a regular contributor to the public radio program This American Life and to HBO's Real Time with Bill Maher, will appear in Meharry Hall of historic East College for a 7 p.m. program, which is free and open to the public.
Savage is the author of Savage Love: Straight Answers from America's Most Popular Sex Columnist, a collection of his advice columns; Skipping Towards Gomorrah: The Seven Deadly Sins and the Pursuit of Happiness in America; The Commitment: Love, Sex, Marriage, and My Family; and The Kid: What Happened After My Boyfriend and I Decided to Get Pregnant, an award-winning memoir about adoption which is the inspiration for a new musical from the producers of
Avenue Q.
"Probably the most read sex columnist in the United States, Savage is also widely regarded as one of the great humorists of our time," noted Library Journal. " Anyone who reads his nationally syndicated 'Savage Love' column weekly well knows his power to burst the bubble of the pompous."
Dan Savage's DePauw appearance is sponsored by United DePauw and Multicultural and Community Life.
Back