"Legacy to the Community" Created by Norval Stephens '51 is Featured in Magazine
January 30, 2010
January 30, 2010, Greencastle, Ind. — The contributions of Norval B. Stephens Jr. to the Barrington, Illinois Area Community Foundation (BACF), which he helped create and has led as president since its founding, are noted in an article in Quintessential Barrington. Stephens, a 1951 graduate of DePauw University, is pictured on the front cover of the magazine's January/February issue with Jim Lancaster and Kim Duchossois, who are assuming the leadership of BACF this year.
Jeffrey Westhoff writes, "Lancaster and Duchossois agree it will be daunting to follow the man who the community knows as the heart and soul -- and the face -- of the BACF." The 81-year-old Stephens has decided to step aside as head of the foundation.
According to Lancaster, "Anyone who does it will look like the second team or third team after Norval has done it, but we have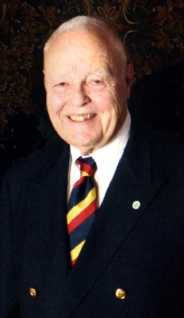 to move forward."
The article notes how Stephens launched the idea for a community foundation over breakfast in 1997, and that BACF started with $36,000 in net assets. "A not-for-profit designed to aid other not-for-profits, the BACF given out $490,900 in grants since it was established in 1998," reports the magazine. "It has also been hailed as a model of how community foundations should operate. Despite the recession, the BACF awarded $115,000 in grants during each of the last two years, and the board expects to give out the same amount in 2010. When that happens, the BACF willc cross the milestone of awarding more than half a million dollars to area charities, without touching its investment principal."
Westhoff's story notes, "Thanks to Stephens' drive, the BACF holds its administrative expenses to 1% (the median expenses ratio for community foundations is 6.5%, according to www.charitynavigator.org, and is 9.6% for all charities). Stephens is proud to point out that when BoardSource (a group that advises not-for-profit boards) and the Aspen Institute studied the BACF and 89 other randomly selected community foundations in 2004, the BACF received the highest rating. It was the only foundation in the study without a paid staff, and remains so. Board members are expected to help with administrative duties."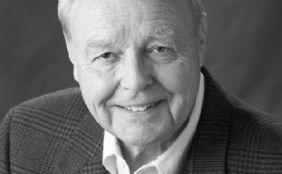 "This has been very personally satisying," Norval Stephens states, "because of the impact that we have on the community and the funds we've been able to put into the community at a time when other charities have had a hard time raising funds because of the economy."
Of Stephens, Duchossois says, "His insight and his leadership will forever drive us all. To me, this is his legacy to the community. This is a significant gift he has left us."
A life member of DePauw's Board of Trustees, Norval Stephens received the University's Old Gold Goblet in 1994. Learn more about him in this previous story.
Back