Wartburg Women; North Central Men Claim NCAA Indoor Track Titles
March 13, 2010
OFFICIAL NCAA SITE | VIDEO GALLERIES | PHOTO GALLERIES | TWITTER | FACEBOOK
WOMEN'S RESULTS | MEN'S RESULTS

March 13, 2010, Greencastle, Ind. — With their win in the 4 x 400-meter relay, the Wartburg women claimed their second straight national championship, while North Central won the men's title by 18.3 points at the NCAA Division III Indoor Track and Field Championships at DePauw's James A. Hollensteiner Track.
Wartburg headed into today's final event trailing Wisconsin-Oshkosh by six points, but its relay of Nevada Morrison, Jenny Kordick, Chelsey Jacobs and Faith Burt won by nearly three seconds in 3:48.73 and lifted the Knights to the team title. The championship was Wartburg's second straight in indoor competition.
Skye Morrison helped Wartburg to the title by winning the long jump (18-9 1/4; 5.72m) and finishing eighth in the triple jump (37-5 3/4; 11.42m). Burt also was third in the 55-meter dash in 7.08 seconds. The Knights' distance medley relay of Amanda Kuiken, Jacobs, Nicole Calabrese and Jennifer Kuiken was sixth in 11:59.25.
Messiah's Kristen Bates was named the United States Track and Field and Cross Country Coaches Association Women's Track Athlete of the Meet after winning both the 55-meter hurdles (8.00) and the pentathlon (3,555 points). Both were Division III season's bests. Nikki Hav of Springfield was the USTFCCCA Field Athlete of the Meet with a win in the triple jump (39-3 3/4; 11.98m) which was an Division III season's best and a third-place showing in the long jump (18-7; 5.66m).
Among the other highlights was Moravian's Anna Heim (pictured above) winning the pole vault in a Division III Championship record 13-7 3/4 (4.16m).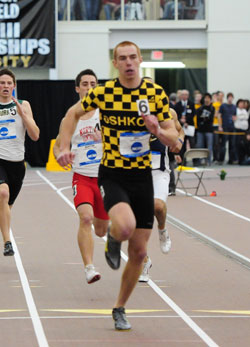 Wartburg finished with 33 points followed by Wisconsin-Oshkosh with 29 and St. Lawrence with 21. Illinois Wesleyan and Chicago tied for fourth with 21 points apiece, while Wisconsin-La Crosse and Messiah each totaled 20 points.
North Central's men picked up its second national title and first since 1989. Dan Benton led the Cardinals with a second-place showing in the 400 meters (48.68) and joined Jon Howard, Jon Caron and Dayton Henriksen in winning the 4 x 400 relay in 3:17.22. Kyle Brady also helped North Central with a win in the 5,000 meters in 14:47.97, while Jake Winder repeated as pole vault (16-9 1/2; 5.12m) champion.
Winder was named the USTFCCCA's Field Athlete of the Meet, while Wisconsin-Oshkosh's Ben Zill (pictured right) was the Track Athlete of the Meet. Zill won the 400 meters (48.33) and was on the third-place distance medley relay and the 4 x 400 relay.
Salisbury's Delannie Spriggs established an NCAA Championships record in the 55 meters by winning in 6.20 seconds.
North Central totaled 52.3 points to Wisconsin-Stevens Point's 34 and Wisconsin-La Crosse's 31.5. Wisconsin-Oshkosh was fourth with 31.0
Follow DePauw Athletics on Twitter | Become a Fan of DePauw Athletics on Facebook
Back