TV Station Previews Tonight's Ubben Lecture by Jason Reitman
March 15, 2010
Also: Details of Tonight's 7:30 Ubben Lecture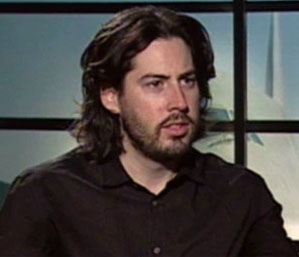 March 15, 2010, Greencastle, Ind. — "The man behind the films Juno and Up in the Air will speak at DePauw University Monday night," notes Indianapolis FOX television affiliate WXIN. "Academy Award-nominated director Jason Reitman will give a free lecture at the school's performing arts center on the Greencastle campus beginning at 7:30 p.m ... He's expected to talk about his film experiences, including being the youngest director to be nominated for two Oscars."
Access the item at FOX 59's Web site.
Another article, in Indianapolis' NUVO, states, "If Reitman is as insightful in person as his films are, his speech will be something to see." Find it here.
Tonight's event, presented by DePauw's Timothy and Sharon Ubben Lecture Series, is open to the public and no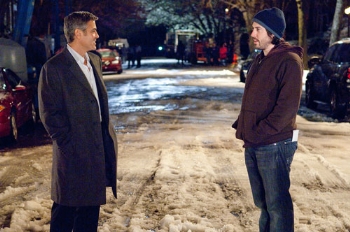 tickets are required. Doors will open at 6:30 for the event in Kresge Auditorium of the Green Center for the Performing Arts. Reitman will discuss "Finding Your Place Up in the Air." (at right: George Clooney and Reitman during the filming of Up in the Air, which was nominated for six Academy Awards)
This afternoon, Jason Reitman will spend an hour talking with a group of DePauw students in a forum which begins at 3:30 p.m. in the ballroom of the Memorial Student Union Building.
In conjunction with Reitman's visit, Up in the Air is playing this week at Greencastle's Ashley Square Cinema. Call (765) 653-5374 for showtimes.
GQ magazine's Tom Carson called Up in the Air, "The movie of the year, the movie of the moment," with the publication adding, "George Clooney and director Jason Reitman
have spun our modern nightmares -- crashing economies, fractured love affairs, looming layoffs -- into a lyric film for the ages." The film was named 2009's Best Picture by the National Board of Review and received eight Broadcast Film Critics Association nominations and six Golden Globe nominations, with Reitman and Sheldon Turner winning the Best Adapted Screenplay award in both competitions. On February 6, Reitman, Turner and Kirn were honored with the University of Southern California's 2010 Scripter Award for adapted screenplay.
Learn more about Reitman and tonight's event in this previous story.
Source: WXIN/Fox 59 (Indianapolis)
Back