Fast Company Cites Sustainability Efforts of DePauw Students
March 15, 2010
March 15, 2010, Greencastle, Ind. — "In the case of eliminating greenhouse gas emissions, colleges and universities have formed the tip of the spear, forging ahead towards climate neutrality," writes Anthony Cortese for Fast Company. "Through the American College & University Presidents' Climate Commitment (ACUPCC) network, 675 institutions have come together pledging to take immediate actions, create longer-term plans, and publicly report their progress toward net-zero emissions."
Cortese adds, "On campuses, students have been instrumental in moving climate disruption and sustainability from the realm of fringe groups to a strategic imperative for presidents and trustees. At Middlebury College, DePauw University, and the University of Minnesota, students were instrumental in making the case for signing the ACUPCC to the administration."

Cortese is founder and president of Second Nature. Read his complete column at the magazine's Web site.
Learn more about DePauw's sustainability initiatives here.
Educational opportunities at DePauw University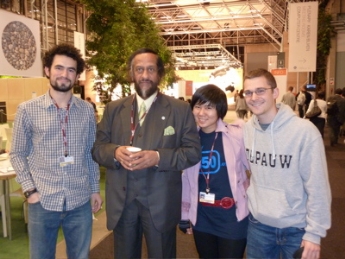 will be enriched by enhanced course offerings in environmental studies, as a result of a three-year, $595,000 grant recently received from The Andrew W. Mellon Foundation. The award will create new opportunities at DePauw for interdisciplinary education relating to all aspects of the environment.
Thirteen DePauw students attended the climate change conference known as COP15 in Copenhagen in December 2009. Read more here and here. (photo at left: DePauw students with Rajendra Kumar Pachauri, chair of the Intergovernmental Panel on Climate Change)
Back