Coach Brad Stevens '99 and His Butler Team Featured in New York Times
March 17, 2010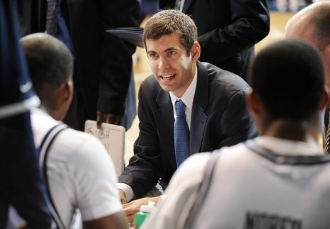 March 17, 2010, Greencastle, Ind. — Brad Stevens, head men's basketball coach at NCAA Division I tournament-bound Butler University, "played basketball at DePauw and slid immediately into a marketing job with Eli Lilly and Company," notes the New York Times. "About a year into a promising career, Stevens decided to follow his heart toward coaching. He started as a volunteer in Butler's basketball offices," writes John Branch, later becoming an assistant coach before being named to lead the program on August 5, 2007.
"Stevens was only 30 when he got the job," Branch points out. "Three years later, and still sometimes confused for a player, Stevens has won 84 games. No Division I coach has won more in his first three seasons. Butler officials worry that big-school suitors are lining up. Stevens shrugged."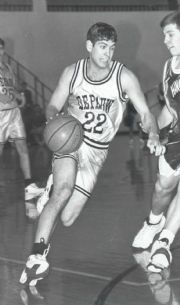 "Where else, the last three years, can you win 28 games a year, go to three N.C.A.A. tournaments and coach four academic all-Americans?," asked Stevens, whose Bulldogs are 28-4 and have won 20 straight games. Thursday, #5 seed Butler faces #12 Texas El-Paso in the West Regional.
Read the article in its entirety at the Times' Web site.
Brad Stevens, a 1999 graduate of DePauw University, was an economics major and Management Fellow at DePauw, where he played basketball under head coach Bill Fenlon (at right: Stevens in action for the Tigers).
Stevens was recently named the Horizon League "Coach of the Year" and was listed as one of the Indianapolis Business Journal's "Forty Under 40."
Back