Senior is Again a Finalist for Microsoft's Imagine Cup
March 25, 2010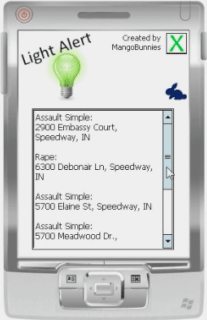 March 25, 2010, Greencastle, Ind. — "Imagine if your phone buzzed and lighted up with an text message whenever you were walking down a street or through a neighborhood with a history of sexual assault," writes Fast Company's Stephanie Schomer. "That's the idea behind Light Alert, an app created by two student finalists in Imagine Cup, Microsoft's annual student tech competition. Malisa Vongskul, a junior IT major at Indiana University-Purdue University Indianapolis, and Ashley Myers, a senior computer science major at DePauw University, make up team MangoBunnies, the brains behind the app."
The piece adds that "this could be a valuable tool for women everywhere, from venturing out on the weekends to finding a place to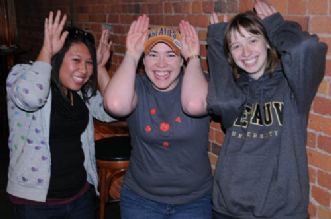 live-you'd be a lot less likely to rent that great apartment if your phone was telling you the neighborhood has a history of sexual assault, right?"
Read more, and access a video, at the magazine's Web site. (photo, l-r: Vongskul, Erin Donahue '09 and Myers at last year's Imagine Cup competition)
Last year, Myers, Vongskul and Erin Donahue, a 2009 DePauw graduate, finished as first runner-up in the Imagine Cup, which is Microsoft's student competition. Details can be found in this previous story.
Back