Editor & Publisher Quotes Prof. Bob Steele '69
March 26, 2010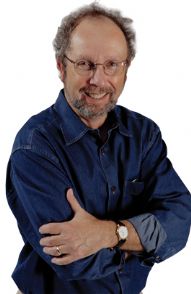 March 26, 2010, Greencastle, Ind. — "There's respect for privacy issues, and then there's allowing an anonymous poster on your Web site to abuse the process," according to Editor & Publisher. "And the Plain Dealer in Cleveland has sent a clear message that it's not afraid to investigate -- and reveal -- the identities of those who would try and use online anonymity as a shield," writes Shawn Moynihan in a column which calls upon DePauw University professor Bob Steele for analysis.

"The Plain Dealer this week made the editorial decision to expose the identity of an anonymous poster at Cleveland.com, and in so doing now finds itself in one of those classic ethical quandaries so ripe for debate," notes Moynihan.
Dr. Steele, who is director of DePauw's Janet Prindle Institute for Ethics and the University's Eugene S. Pulliam Distinguished Visiting Professor of Journalism, takes issue with the paper's decision. In his view, there was "no immediate, profound danger to someone" and "no clear suspicion of judicial misconduct" when the paper began looking into a posting that amounted to a personal attack on a reporter. Steele states, "It does raise the question of the wisdom and fairness of the newspaper using the registration system of the Web site for
reporting purposes."
Read the complete column at E&P's Web site.
A 1969 graduate of DePauw University, Robert M. Steele is one of the nation's leading media ethicists. He was quoted in a recent article in Pennsylvania's Scanton Times-Tribune as well as a February 16 Associated Press report on the New York Times' reporting of the capture of a Taliban leader.
Source: Editor & Publisher
Back