DePauw and Local Communities to Create and Fill 'Empty Bowls'
March 26, 2010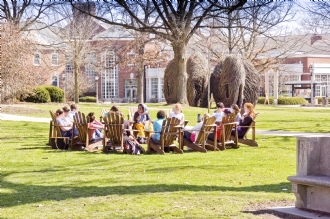 March 26, 2010, Greencastle, Ind. — "Our goals are to raise money to help organizations fight hunger, to raise awareness about the issues of hunger and food security, and to help bring about an attitude that will not allow hunger to exist," Meredith Brickell, assistant professor of art at DePauw University, says of the community-based projects she is overseeing. A story in Greencastle's Banner-Graphic describes how Brickell, DePauw students and the United Way of Putnam County "are partnering to implement a community art project that will support the fight against hunger in the county."
The Empty Bowls project invites people to make and glaze ceramic bowls at April workshops in Greencastle, Russellville and Bainbridge. In May, meals will be served in the bowls in a community event at Robe-Ann Park. "Attendees will take home a bowl to keep in their home as a reminder of the hunger issues that exist in their community," writes Maribeth Ward.
"Each bowl will be a representation of this shared community experience," Professor Brickell tells the newspaper.
"From its humble beginnings as a meal for the staff of one high school, Empty Bowls has spread across the United States and beyond and has raised tens of millions of dollars for anti-hunger organizations," adds David English, director of the local United Way and 1972 DePauw graduate.
"It's something we hope we'll be able to do here in Putnam County every year," he added.
Learn more at the Banner-Graphic's Web site or in this previous article.
Back