DePauw Roots of '99 Grads Brad and Tracy Stevens Noted in New York Times
March 29, 2010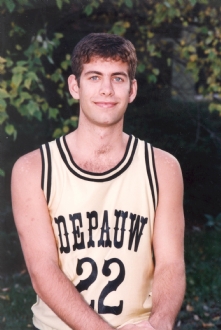 March 29, 2010, Greencastle, Ind. — "It did not take Tracy Stevens long to discover how important basketball was to her husband, Brad," writes the New York Times' Billy Witz. "On their third date, as sophomores at DePauw University in Greencastle, Ind., he took her to a high school basketball game more than an hour and a half away." (at left: Brad Stevens as a DePauw senior)
"I should have known I was in trouble," says Tracy (Wilhelmy) Stevens, who, like her husband, is a 1999 graduate of DePauw.
Witz writes, "Tracy Stevens said this while standing at the edge of the court late Saturday afternoon, after being summoned by her husband from the stands with their two children, 4-year-old Brady and 10-month-old Kinsley. Tracy Stevens wore a West Regional championship baseball cap and a smile, both products of Butler's 63-56 victory over Kansas State."
The Times story, which is headlined, "Butler's Coach: Competitiveness Wrapped in Calm," continues, "(Brad) Stevens, 33, is in many ways the embodiment of his team -- baby-faced, smart, unknown to all but the
basketball cognoscenti and, until now, frequently underestimated. Indeed, when he took off for a flying chest bump with the freshman walk-on Emerson Kampen after the game, Stevens got surprisingly high in the air. Ten years ago, Stevens, a native of suburban Indianapolis, took another leap. He walked away from a job as a marketing representative at the medicine manufacturer Eli Lilly to pursue a college coaching career at one of its lowest rungs -- the director of basketball operations at Butler. He did not become a head coach until three years ago and still looks young enough to be mistaken for a player. Yet throughout the tournament, the visage of Stevens on the sideline is one of composure. He mostly stands with his arms folded, observing, and when he is moved to action, it is often polite applause -- for a job well done or as a pick-me-up."
"He's calm and collected, but he's fiercely competitive," Tracy Stevens tells the newspaper. "He's always thinking about how he can beat you." (at left: Brad Stevens in action as an undergraduate)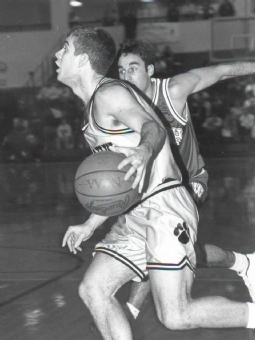 An economics major and Management Fellow at DePauw, where he also played basketball, Stevens "is a believer in statistical analysis, which after heavily influencing baseball is making its way into basketball," Witz reports. "At home, he pores over statistics almost as much as he does film in preparing game plans."
Access the complete article at the Times' Web site. Other stories have appeared online today at Sports Illustrated, USA Today and the Indianapolis Star.
Stevens and the Bulldogs, winners of 24 consecutive games, play Michigan State in the Final Four Saturday in Indianapolis.
The Horizon League "Coach of the Year" and his team have received a flurry of media attention in recent days. Read more here or access an online profile of Brad Stevens.
Source: New York Times
Back