Barron's: Tim Solso '69 One of USA's Most Respected CEOs
March 31, 2010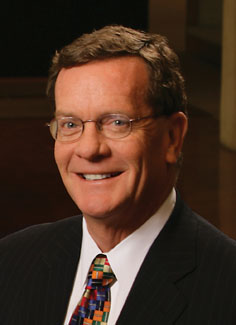 March 31, 2010, Greencastle, Ind. — Theodore M. "Tim" Solso, chairman of the board and chief executive officer of Cummins Inc. and 1969 graduate of DePauw University, "has turned an underperforming company into a model of industrial competitiveness; Cummins now is the world leader in diesel-engine technology," notes Barron's. The magazine's current issue lists Solso as one of America's "30 Most Respected CEOs."
"While many companies were forced to hunker down during the recession and financial crisis of 2008 and 2009, others went on the offensive -- and scored big," begins the article. "So as we drew up our annual list of the 30 Most Respected CEOs, we sought to identify executives who kept their companies out of trouble and took advantage of the downturn to expand, make shrewd acquisitions, feast on the problems of competitors or otherwise distance themselves from rivals."
Barron's writes, "When Solso became CEO of Cummins in 2000, the stock had moved little in 20 years, returns were poor and the company's competitive position was shaky. Since then, Cummins, which makes diesel engines and related equipment, has undergone one of the most impressive revivals in industrial America. The stock is up six-fold, and Cummins is a leader in clean-diesel technology," states the text. "Solso, 63, has done great work in forging partnerships with countries in the developing world; his
Chinese joint venture rang up $1.7 billion in sales last year. Wall Street sees Cummins as one of the best U.S. plays on China, India, and Brazil."
Access the list and accompanying profiles at the magazine's Web site.
A former member of DePauw's Board of Trustees, Tim Solso was honored with the Anti-Defamation League's "Man of Achievement Award," as well as the 2007 International Executive of the Year award from the Academy of International Business (AIB), the 2007 Six Sigma CEO of the Year Award, and the American Business Award for "Best Chairman."
Learn more in this recent article.
Back