Dan Quayle '69 Likes Brad Stevens '99 and Butler in Tonight's Game
April 5, 2010
April 5, 2010, Greencastle, Ind. — When it comes to tonight's national championship basketball game, who will Dan Quayle be rooting for? "My son graduated from Duke and Coach K [Mike Krzyzewski] is a friend and an all-world coach," the 44th Vice President of the United States was asked today in an online chat hosted by the Washington Post. "However, I have to go with Butler and their coach from DePauw, where I graduated many years ago." Quayle, a 1969 graduate of DePauw, added, "Gene Hackman needs to sit behind the Butler bench tonight."
Hackman portrayed the coach who led his underdog team to victory in the movie Hoosiers. Butler, which has won 25 straight games, is led by Brad Stevens, a 1999 DePauw graduate.
Quayle, who served as a U.S. Congressman and Senator before being tapped as George H.W. Bush's running mate in 1988, discussed a number of issues during the Post session, including whether a competitive third party will emerge. "The two party system has served America very well," says Quayle, now chairman of Cerberus Global Investments. "We always have political movements one way or another but the evolution of a lasting third party probably will not happen." (at right: Quayle visiting DePauw on October 26,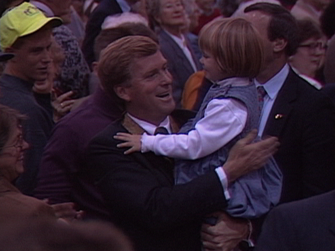 1990)
As far as potential Republican presidential contenders? "As we look to 2012, the names I see are Mitch Daniels, Mitt Romney, John Thune and Bobby Jindal," according to Quayle. "There are others who may emerge. You should watch the governor races in 2010 for possible contenders."
The full transcript can be found at the newspaper's Web site.
A member of DePauw's Athletic Hall of Fame, Dan Quayle captained the Tiger golf team. Learn more about him in this recent article.
Back