Joy Rowe Blang '92 and 'Josh Cares' Featured in TV Report
March 16, 2010
March 16, 2010, Greencastle, Ind. — "There's a program that's the first of its kind in the country right here at Children's Hospital," began a report which aired tonight on Cincinnati's WXIX-TV/FOX 19. The story profiles Josh Cares, a non-profit organization dedicated to ensuring that no critically or chronically ill children go through a hospitalization alone, without the support of a parent by their sides when they need it the most. It includes an interview with Joy Rowe Blang, a 1992 DePauw University graduate, who is director of development for Josh Cares.
"I was first introduced to the field of Child Life during my freshman year at DePauw when I took a mini-course at Methodist Hospital during Winter Term," reports Blang, a member of DePauw's Athletic Hall of Fame. "That led me to complete an internship upon graduation. I did not pursue a career as a Child Life Specialist, but now, nearly 20 years later, I am the director of development for a very unique organization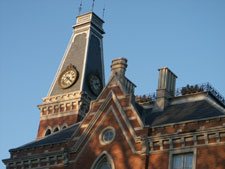 devoted to providing Child Life Services to critically ill children whose parents are unable to be by their sides during their hospitalization. I have found the most rewarding career and am grateful to DePauw for introducing me to such an integral part of the care of hospitalized children."
Access the video report via this link.
Back