President Obama Makes Call to Brad Stevens '99 and His Team
April 6, 2010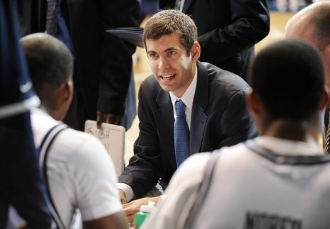 April 6, 2010, Greencastle, Ind. — Hours after Butler University lost college basketball's national championship game to Duke University in a 61-59 thriller, "President Barack Obama called coach Brad Stevens this afternoon and spoke to the players by speakerphone," reports the Indianapolis Star. "Obama told the Bulldogs they played a great game and he hopes to shoot hoops with them sometime, according to White House spokesman Robert Gibbs."
Access the item at the newspaper's Web site.
Stevens, a 1999 graduate of DePauw University, also appeared tonight on CBS' Late Show with David Letterman. Here's a short clip:

[Download Video: "Brad Stevens '99 Chats with David Letterman" - 2103kb].
Access the complete segment by clicking here.
Coach Stevens led Butler to a 33-5 record this season and took a 25 game winning streak into the title contest. His overall record is 89-15 over three seasons.
As announced late today, Brad Stevens will return to the DePauw campus next Tuesday, April 13, to deliver a free lecture. The program, which is presented by the Management Fellows program and is supported by the Timothy and Sharon Ubben Lecture Series, will begin at 11:30 a.m. in Kresge Auditorium of the Green Center for the Performing Arts (605 S. College Avenue). Admission is free and seating will be available on a first-come, first-served basis.
Learn more in this story.
Back