C-SPAN CEO Brian Lamb to Receive Honorary Degree at 171st Commencement
April 11, 2010
Also: J. Nichols '89 to Deliver Commencement Address; Pre-Order the 2010 Commencement DVD
April 11, 2010, Greencastle, Ind. — Brian Lamb, chief executive officer of C-SPAN Networks, will be awarded an honorary degree at DePauw University's 171st annual commencement next month. Lamb will receive an honorary Doctor of Letters degree at the ceremony, which is scheduled for Sunday, May 23, at 1 p.m. (EDT) in Holton Memorial Quadrangle.
As previously announced, scientist and conservationist Wallace J. Nichols, a 1989 graduate of DePauw, will provide the principal address to graduates. Dr. Nichols will be awarded an honorary Doctor of Science degree.
Lamb has been at the helm of C-SPAN since he helped the cable industry launch the public affairs channel 31 years ago. Today, C-SPAN employs approximately 270 people and delivers public affairs programming on three television channels to the nation's cable and satellite customers; globally to Internet users via C-SPAN.org and 15 other internet sites; and to radio listeners
through C-SPAN Radio, an FM station in Washington that can also be heard on XM satellite service nationwide. (at right: Lamb; Paul FitzPatrick, then the president of C-SPAN; and U.S. Sen. Robert Byrd in June 1986)
A native of Lafayette, Indiana, Lamb has also been a regular on-air presence at C-SPAN since the network's earliest days. Over the years, he has interviewed Presidents Nixon, Ford, Carter, Reagan, George H.W. Bush, Clinton, and George W. Bush and many world leaders such as Margaret Thatcher and Mikhail Gorbachev. For 15 years, beginning in 1989, he interviewed 800 non-fiction authors for a weekly program known as Booknotes. Four books of collected interviews have been published based on the Booknotes series. Currently, Lamb hosts Q and A, an hour-long interview program on Sunday evening with people who are making things happen in politics, media, education or technology.
Over the years, Lamb has made a number of visits to the DePauw campus. They include a May 3, 1999 speech entitled "Network News: Does It Matter Anymore?" On October 29, 2003 he discussed "Is Journalism Ethics an Oxymoron?" and was presented with DePauw's Bernard C. Kilgore Medal for Distinguished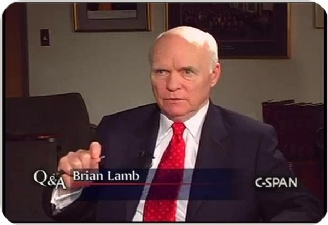 Lifetime Achievement in Journalism.
On November 5, 2007, President George W. Bush presented Lamb with the Presidential Medal of Freedom. The Medal of Freedom is given to those who have made remarkable contributions to the security or national interests of the United States, world peace, culture, or other private or public endeavors. "For nearly 30 years, the proceedings of the House of Representatives have been televised -- unfiltered, uninterrupted, unedited, and live," said President Bush during the White House ceremony. "For this we can thank the Cable-Satellite Public Affairs Network, or C-SPAN. And for C-SPAN, we can thank a visionary American named Brian Lamb." (below: President George W. Bush congratulates Brian Lamb and his wife Victoria during the presentation of the Presidential Medal of Freedom)
A graduate of Purdue University, where he majored in speech, Brian Lamb served in the U.S. Navy after college and later began as a freelance reporter for UPI Radio. He subsequently served as a Senate press secretary and worked for the White House Office of Telecommunications Policy at a time when a national strategy was being developed for communications satellites. In 1974, Lamb returned to journalism, publishing a biweekly newsletter called The Media Report. He also covered telecommunications issues as Washington bureau chief for Cablevision magazine. It was from this vantage point that C-SPAN began to
take shape. Congress was about to televise its proceedings; the cable industry was looking for programming to deliver to its customers by satellite. Lamb brought these two ideas together with C-SPAN, which launched with the first televised House of Representatives debate on March 19, 1979.
For a ninth consecutive year, DePauw will produce a DVD of its commencement ceremonies, which will include footage of each graduate receiving their DePauw diploma as well as a range of bonus materials. Orders are now being accepted at $19.95 for the first disc; additional DVDs sent to the same address will be $8 each (7% sales tax will be added to Indiana orders). An online order form is available here; you can learn more about the disc in this article.
For more information on DePauw's commencement, click here.
Back