A New Perspective
April 8, 2010
Three years ago this April, Lazgin Al-Barany, now a visiting scholar of linguistics, received a phone call at his home in Mosul, Iraq. The call was from a colleague of his son at the University of Mosul, and his message was brief: armed militants were on their way to the Al-Barany home. He and his wife and son quickly packed what they could fit into their car and left for his hometown on the city's outskirts.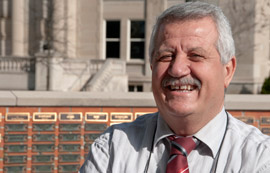 Al-Barany was no stranger to unexpected life and career changes. He first left teaching in 2001 after years of economic sanctions had reduced a university professor's wages to $20 per month. His next job, a position with the United Nations' World Food Programme (WFP), was cut short during the early years of the U.S. occupation when insurgents bombed the organization's Baghdad headquarters. The threat his family narrowly escaped in Mosul was different -- it was personal. The toppling of Saddam Hussein's Ba'ath regime created a power vacuum, giving rise to open warfare between the country's factions. The Al-Baranys had been targeted for being Yezidi, a Kurdish religious group that has suffered attempts of genocide for hundreds of years.
Not long after leaving Mosul, a former coworker at the WFP told Al-Barany about the Iraq Scholar Rescue Fund (ISRF), a program of the Institute of International Education that provides scholarships for displaced Iraqi academics in safe locations around the world. He decided to apply.
By early 2008, Al-Barany had found a new position at the University of Duhok in Iraqi Kurdistan, a region bordering Turkey that remained largely untouched by the factional violence that followed the 2003 invasion. Through his ISRF application, he heard from a number of foreign universities, but none had convinced him to leave the country. That changed when he was offered a year-long appointment at DePauw to teach English to international students and lecture on Middle Eastern culture and history.
"My wife said, 'Look, you are not going to some village -- you are going to America,'" Al-Barany says. "You have to go and see what America is like."
Of course, it wasn't possible to simply book a flight and leave. The family had to make a dangerous and expensive trip to the American embassy in Baghdad to apply for a visa. Once there, even with a job offer, his application was denied.
"[The interviewer] thought that if I went to the United States that I wouldn't come back because I was a victim," Al-Barany says.
He returned to his home and informed DePauw that he would not be able to come after all.
In most cases, that is where the story would end, but Al-Barany's faith literally provided him with a second chance. One day, while worshipping at a Yezidi sanctuary, he met an official who was visiting from the U.S. consulate in Mosul. The consul listened to his story of the trip to the embassy and promised to follow-up on the matter. In May 2009, a member of the consul's staff informed Al-Barany that a second visa interview had been arranged, and that she had written to DePauw to ask them to renew the appointment offer. He received his visa later that year and, after nearly two years of delays, finally arrived on DePauw's campus in February.
Due to the setbacks that plagued his journey to the United States, Al-Barany has not been able to teach as originally planned. Instead, he has been on a lecture tour of classrooms, speaking about the cultures and languages of the Middle East.
"Lazgin is an even-keeled reality check to the shock-jock sensationalism we often encounter in this culture," says Jeremy A. Rinker, adjunct assistant professor of conflict studies, who has helped organize some of Al-Barany's sessions on campus, including an upcoming event with a film about the history of the Yezidis (April 12 at 4 p.m. in the Peeler Art Center auditorium).
"I think his presence at DePauw brings a much-needed perspective to our students," Rinker says.
Eight years after "Axis of Evil" entered the vernacular, most DePauw students are still searching to make sense of Iraq outside its very narrow existence in the American media. Al-Barany has been able to tap into their natural curiosity, introducing them to a country that is culturally, religiously and politically diverse.
"In light of the times, I think it's very beneficial to have a member of the Iraqi community coming to our discussions and providing a perspective that we could otherwise not provide ourselves," says junior Chelsey E. Jonason, a conflict studies major. "Since Professor Al-Barany is a member of a minority religious group, he also provides us with a unique, perhaps less-polarized perspective that we cannot find in written accounts of how Iraqis view the conflict."
As much as Al-Barany has been willing to share, he, too, is a student at DePauw. In Iraq, even secondary education is specialized, and a student's focus in high school largely determines his or her major in college. This prescribed approach to education is reflected in the classrooms -- something Al-Barany hopes to change.
"Most teaching in Kurdistan is teacher-centered: a good teacher is one who speaks the most during a class," Al-Barany says. "Here, it is student-centered learning. Universities there have to understand that the best way to teach students is to teach them to depend on themselves."
Despite feeling like a welcomed member of the DePauw community ("I don't feel the time when I'm on campus," he says.) and contrary to the fears that derailed his first visa application, Al-Barany is excited about returning to Iraq at the end of his appointment. There, he will use his experience at DePauw to help shape the country's future, one classroom at a time.
"My students need me," Al-Barany says.
Back