DePauw Wins Big Four Classic; King Earns Medalist Honors
April 8, 2010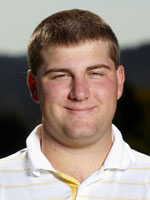 April 8, 2010, Carmel, Ind. — DePauw shot a 319 and won the Big Four Classic by two strokes over Butler at Crooked Stick. Hanover was third with a 334 and Wabash fourth at 344.
DePauw's Chase King (pictured) earned medalist honors with a 73, while Nick Reardon was second with a 74. Jake Walsh, Peter Haller and Ronnie Harris each shot 86 and Ryan Berra finished with an 88.
The Tigers host the Katman Klassic at Twin Bridges in Danville, April 10-11.
Follow DePauw Athletics on Twitter | Become a Fan of DePauw Athletics on Facebook
Big Four Classic
Crooked Stick GC
Carmel, Ind.
Dates: 4/8/2010
Par 71, 6971 yards  (4 teams, 24 players)

DePauw University............. 319   +35      1st
Chase King....................  73    +2      1st
Nick Reardon..................  74    +3      2nd
Peter Haller..................  86   +15   t-14th
Ronnie Harris.................  86   +15   t-14th
Jake Walsh....................  86   +15   t-14th
Ryan Berra#...................  88   +17   t-17th

Butler University............. 321   +37      2nd
Matt Vogt.....................  79    +8   t- 3rd
Andrew Wegeng.................  79    +8   t- 3rd
Ryan Wegeng...................  79    +8   t- 3rd
Colin Reenan..................  84   +13      9th
Jordan Mack...................  85   +14   t-10th
Ben Nichele#..................  93   +22     22nd

Hanover College............... 334   +50      3rd
Marcus El.....................  82   +11   t- 6th
Matt Murphy...................  82   +11   t- 6th
Jacob Hopper..................  85   +14   t-10th
Vikram Ramjee.................  85   +14   t-10th
Will Taylor...................  91   +20   t-20th
Austin Stagman#...............  95   +24     24th

Wabash College................ 344   +60      4th
Charlie Kelly.................  82   +11   t- 6th
Jordan Koch...................  85   +14   t-10th
Sam Russell...................  88   +17   t-17th
Kyle Nagdeman.................  89   +18     19th
Andrew Palmer#................  91   +20   t-20th
Luke Moton....................  94   +23     23rd

# Indicates individual player

Back